Click here for all my pix from the day.
Click here for a click of Ohio during 'Purple & Gold' Spirit.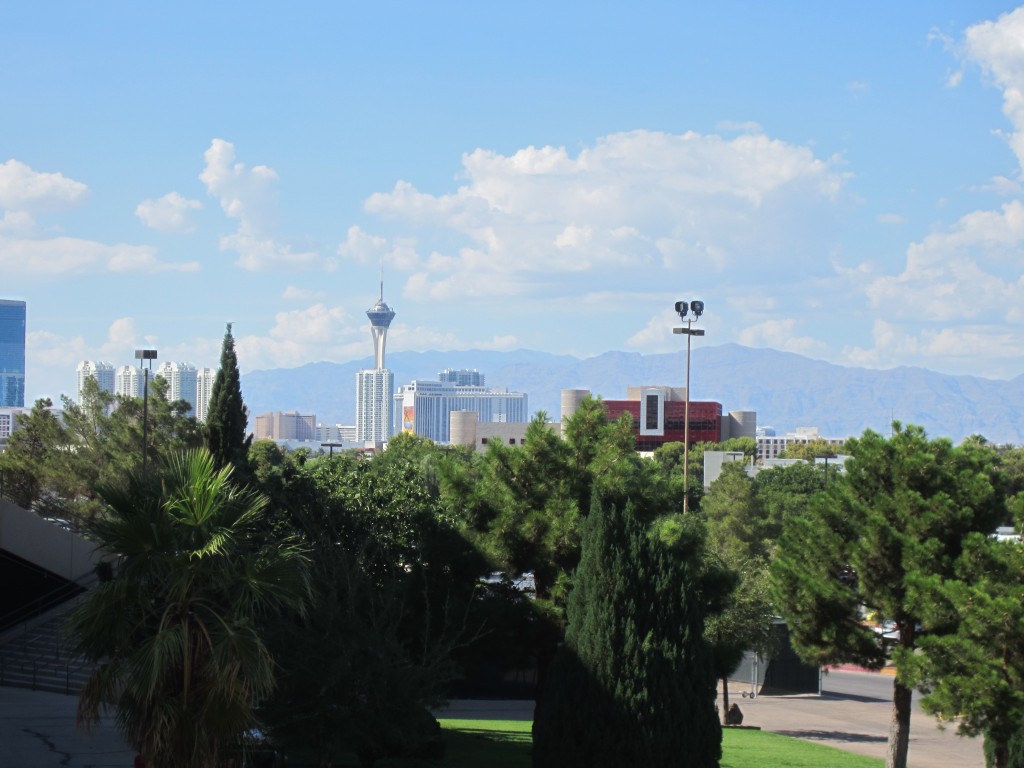 The main events of the day are listed below.  Students pick and choose what they want to do.  Nobody can do them all, but everyone does a few.  And everyone is always very tired as they leave fellowship.
2 mile run at 7:30 am
(mandatory) contest session 3 at 8:30 am – mottoes, Greek language, grammar, Roman history
sight latin reading at 9 am
impromptu art at 10 am
discussions with candidates for national office at 10 am
certamen round 2 at 12 noon and round 3 at 6 pm
various colloquia at 1 pm
the 3rd GA at 2:45 pm (mandatory)
volleyball at 7:15 pm
classical art contest at 8:30
dance at 9 pm
open gym at 9 pm
game room at 9 pm
OH fellowship at 11:15 pm (mandatory)
call to floors at 12:15 am (mandatory)
I slept in a bit and didn't leave the room until about 10:30.  I got some coffee and then found the middle school group of OH students in the Student Union.  Caroline shared that she and Grace stayed up late watching Dr. Who on an iPod.  Teo was struggling with a big piece of pizza and claimed the sauce was hurting his hands.  Julia was eating a toasted plain bagel.
Much of the day was spent in Rounds 2 & 3 of certamen.  Each round lasts at least 30 minutes, and there are 3 levels, so it ended up being 4 hours of certamen.
The Novice team scored pts in every round and began to relax and enjoy the competition.  They were buzzing in at the right time and getting some questions.  They did not qualify for the 9 team semi-finals, but they represented OH well.
The Intermediate team got better with each round.  They really came together in Round 3 and gave VA a very close match.  Matt, Will, Anav, and Alex head into tomorrow's semis as the 7th seed and play 1st seend MA and 6th seed VA. I'm 53 years old and after a divorce I stayed more than 2 years without any relationship. A few months ago I felt that I no longer hadthe 'morning wood' and that I no longer wanted to masturbate. I was lucky enough to meet a beautiful woman and after 2 breakdowns concerning the erection I consulted a sexologist who prescribed me Cialis 10 mg. He told me, however, that this was was supposed to be temporary. Last week I took a pill on Friday at 3 pm and together we enjoyed an exceptional series of love moments that lasted until Sunday morning. My stamina returned and my partner was delighted. Thanks, https://www.ipca.com/cialtad/.
The Upper team has played well the whole convention.  Everyone has contributed and is part of the success.  Round 3 was a really good match with FL and GA.  Tino and the team racked up some pts, but FL won the round.  In the end, it does not matter who wins any of the preliminary matches because it is all about pts.  The 9 teams with most cumulative pts after 3 rounds move on to the semis.  The Upper team has had some competitive matches against very good teams and is well prepared for the intensity of the semis, where the only team to move on to the finals is the winner of the semis round.  OH is seeded 4th and plays in tomorrow's semis against 3rd seed CA and 9th seed TN.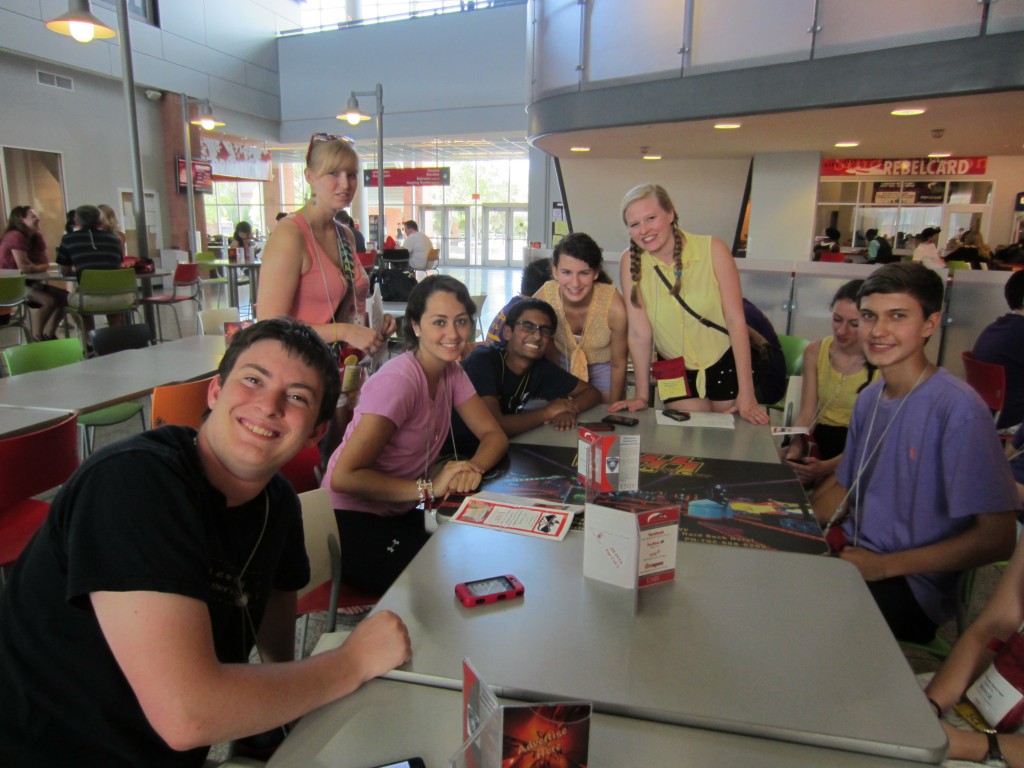 The 3rd GA was devoted primarily to speeches by candidates running for national office.  Here are a few highlights:
St. Edward teacher DJ Cavoli is now known affectionately as Aquarius, the Water-Bearer.  After the strenuous cheering during Spirit, Mr. Cavoli noticed that many in the OH delegation were rather parched.  He had been listening to the many warnings about the heat and was concerned that the students were not drinking enough water.  He immediately sprang into action, filled a cardboard tray with cups of ice water, and made at least 3 trips up the stands to sate the students' thirst.  go Aquarius go
Anav Sood, who had submitted a challenge regarding the correct answer to a language question on an academic test, learned that 'the powers that be' had rejected his appeal.  Why?  The question asked for the 'best answer.'  Anav crumpled the sheet in disgust and muttered, 'I knew they would say that.'
Regina Merrill won 10th place for State Publications for her OH Torch issues.
Summit earned 3rd place for Service for its hundreds of hours in the local community.
Tino earned 1st place for Service (again!) for his countless hours teaching Latin and classical civilization to young people in the Cincinnati area.
The sole delegate from Hawaii, Elizabeth Hamm, gave the closing remarks and likened the world of convention to Narnia and Hogwarts.  But convention is real.  And, in spite of what many avid readers believe, the others are, well, not real.
The GA closed with a surprise Dance Party by the national officers.  It was pretty funny.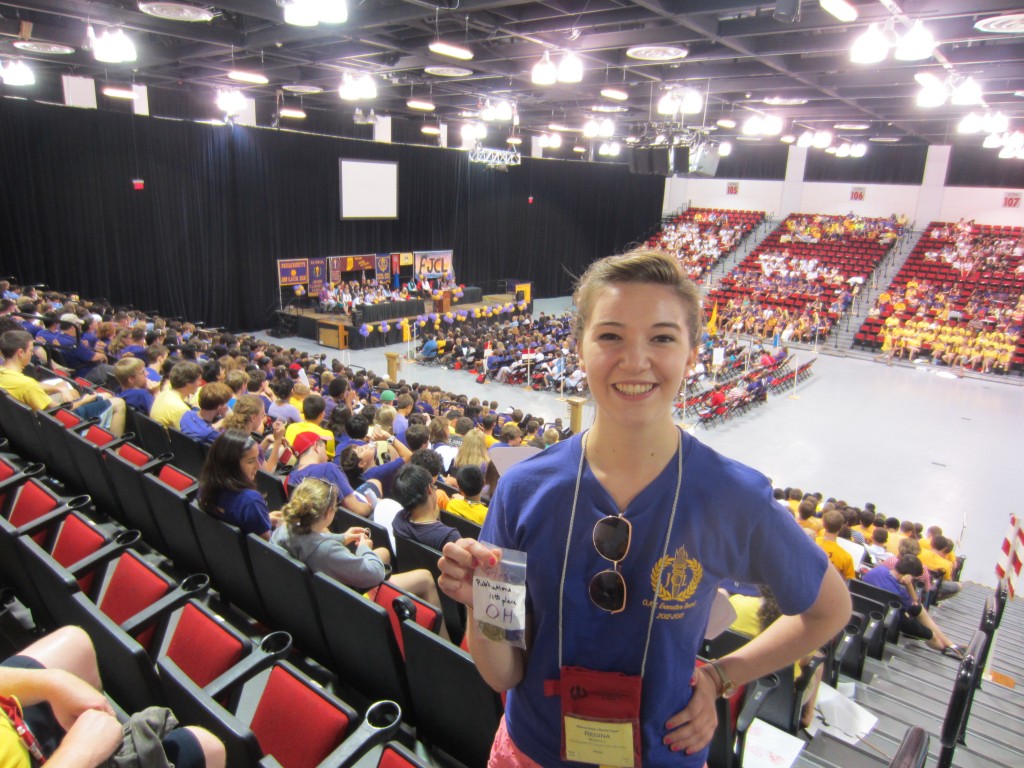 The OH state officers run the fellowship each night.  Who are they?
 President – Tino Delamerced (Summit)
1st Vice-President – Ryan Thaxton (Westlake) – unable to attend NJCL
2nd Vice-President – Kelly McBride (Summit)
Secretary –  Emily Haussler (Summit) – unable to attend NJCL
Treasurer – Narayan Sundararajan (Shaker Heights)
Parliamentarian – Will Emery (Granville)
Historian – Will Beatrez (St. Edward)
Editor – Jane Klaus (Ursuline) – unable to attend NJCL
NE Gubernator (Representative) -Allison Kao (Shaker Heights)
NW Gubernator (Representative) -Eleni Packis (Westlake)
Central Gubernator (Representative) -Henry Bacha (Wellington) – unable to attend NJCL
SW Gubernator (Representative) -Ra'ad Dawod (St. Xavier)
My main function as State Chair of Students is to supervise and assist these officers.  And my job is easy because these students take their duties seriously and do what needs to be done.  go officers go
Random stuff from fellowship:
Joseph from Shaker, on the marathon at 7:30 am:  'It was hot.  But I got 3rd overall and 1st in my level.'
Mo from Lakota West, on the Greek Language test:  'Well, I learned the Greek alphabet over the summer, but it wasn't quite enough…'
Ben from Shaker, also on the Greek Language test:  'I actually take Greek, so that test was fine.'
Tullus from Summit, on the Grammar test:  'I only missed 5 of the first 50, but then on the next 50 I missed-'  'No, stop, I don't want to know!'  his Latin teacher interjected.  Tullus sat down.
Patrick from Lakota, on the Sight Latin Reading contest:  'Unlike states, there was no comprehension question about the passage.  So I was happy.'
Maggie from Lakota, on Impromptu Art:  'I created a hunk-a hunk-a Latin Club Elvis!'
Heather from Shaker got caught in the mosh pit at the dance and lost an earring but had fun.
2 OH acts made it into That's Entertainment, tomorrow's talent & variety show:  Lauren Salem (Ursuline, Miami University) and Anav Sood (Shaker).
Narayan from Shaker, on the new pajama cheer, which is based on the old banana cheer:  'No, we are NOT peeling pajamas!'