Click here for all the pix from the day
The 1st full day of convention is busy, busy, busy.  Here is a sample schedule for the kids.  Did every student do every activity?  No.  Did most students do most activities?  Yes.
7 am – Olympika (track & field)
8 am – Ludi Chess
10 am – Academic Testing, Session 3 (Reading Comprehension, Roman Life, Mythology)
11:15 am – NJCL Service Project, Letters to Soldiers (organized by NJCL 2nd VP Nar-Nar Sundararajan)
12:45 pm- Essay Contest (creative writing infused with classical knowledge)
2:00 pm- General Assembly 2
4:00 pm – Nomination Committee (Shaker's Hannah Barrett is running for NJCL Historian)
6:30 pm – Competitive Certamen (Advanced, then Intermediate, then Novice)
8:30 pm – Dance or Bazaar (to buy mementos!) or Toy Story 3
11:00 pm – OH Fellowship (mandatory for everyone, even Dustin Argo)
12:30 pm – Lights Out!
p.s. – don't forget to eat and hydrate!
Like the students, the adults also had a busy day.  Most were judging contests in the morning.  I judged the State Scrapbooks for Content (are there enough pix, info, etc) and Theme (is there a coherent theme throughout?).  All were compiled by the State Historians.  Some were outstanding (VA!) and clearly required over 100 hours to complete.  Yes, 100.  At the conventions, the Latin students have a variety of areas to display their talents, and some take their work very seriously – whether in art or academics or leadership or live performance (the upcoming talent show).  I was supposed to judge some of the graphic arts, but the work was already done by the time I had finished with the scrapbooks.  All the adults are here for the kids, without pay, for a week of their summer, and everyone pitches in to make the convention work.  Most are Latin teachers, but some – like Shaker mom Heidi Robertson – come just to help out because they recognize the wonderful things that the NJCL offers the students.
Here are a couple of the projects that caught my eye: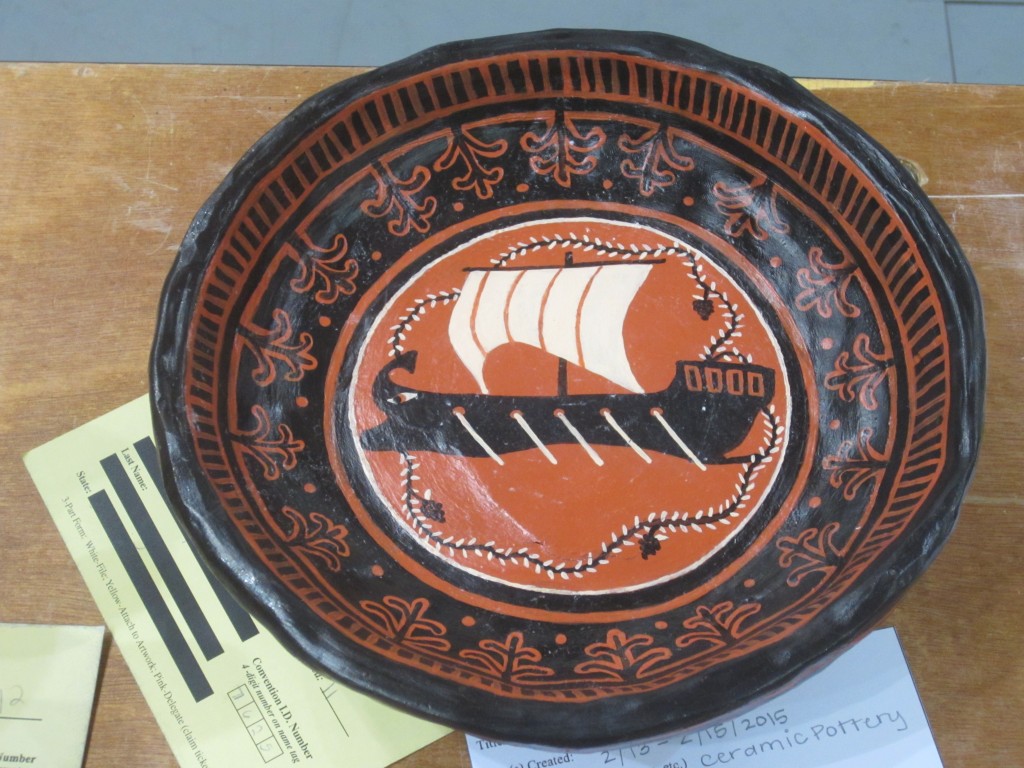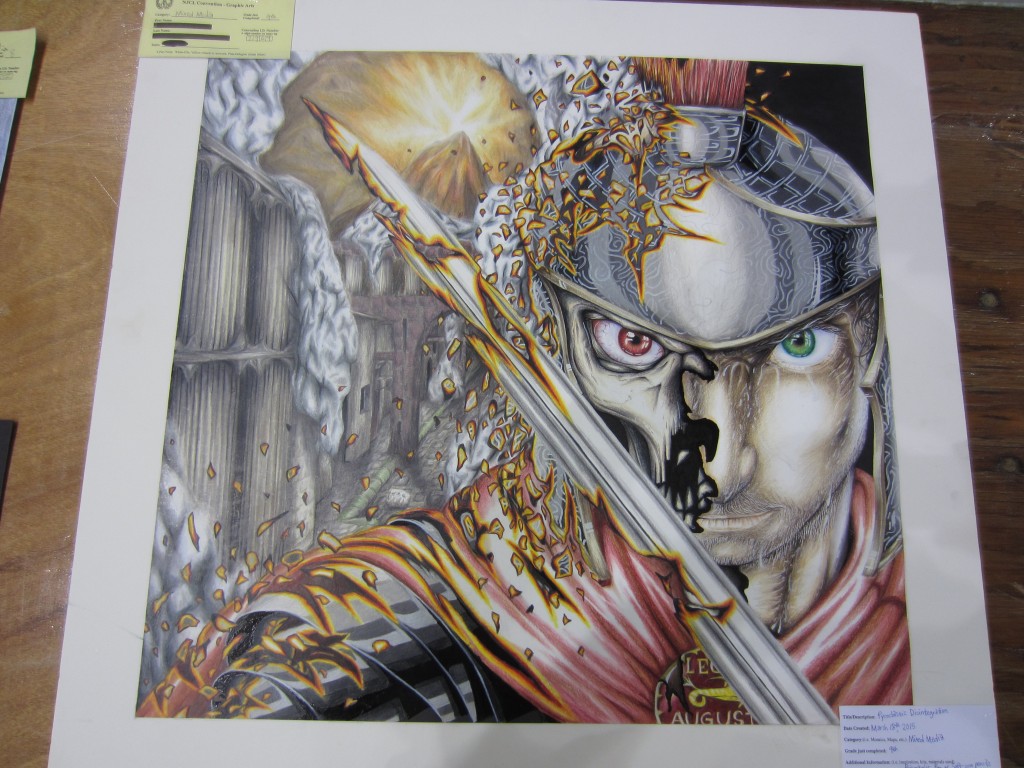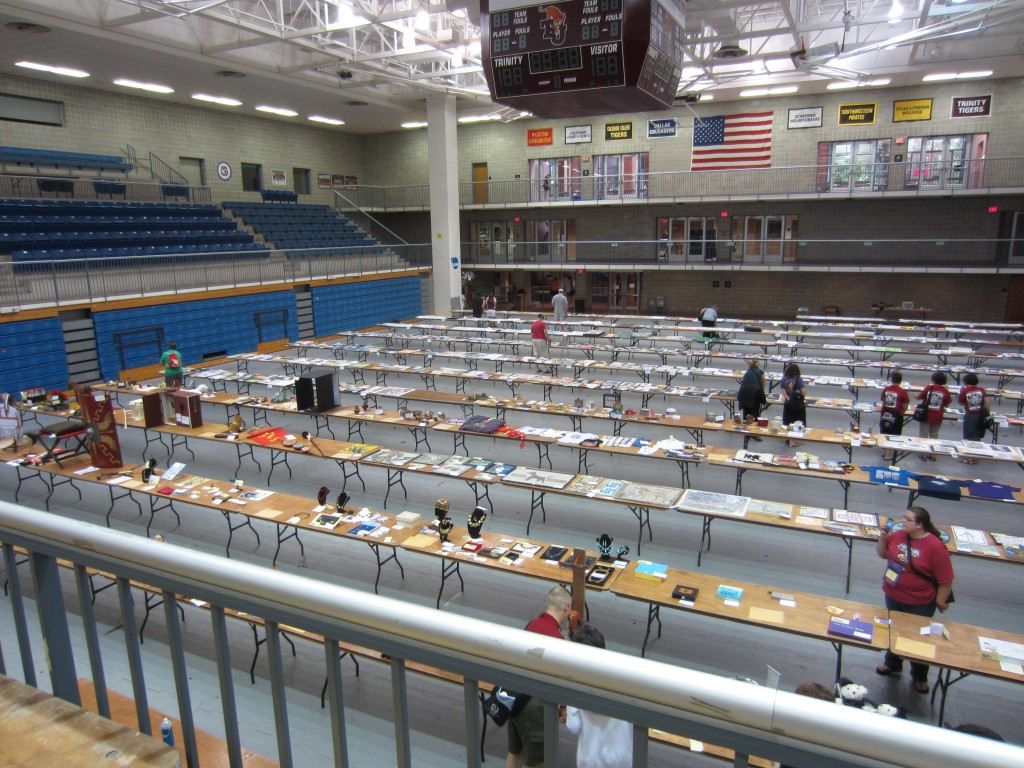 I then had a State Chairs Lunch/Meeting.  All the State Chairs in attendance meet and discuss issues at the state and national level.  I sat across from the VA Chair who recently got a job at Trinity Episcopal School in my hometown Richmond.  And my Latin teacher, Sue Robertson, was one of the people running the meeting.  She has retired but still remains Convention Advisor, which keeps her quite busy since that position is involved in every detail of the national conventions.  All my siblings had Latin with Sue at Midlothian HS.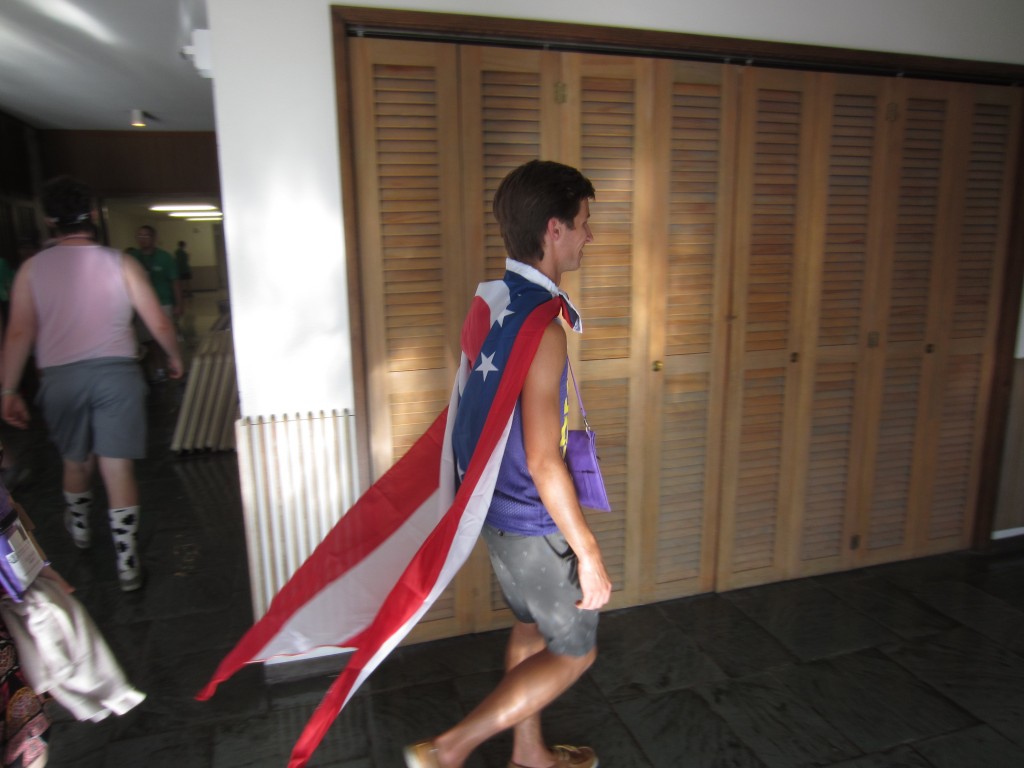 Here are some of the highlights from GA 3:
Who is Steve Gentle?  Perhaps Wyoming teacher Todd Wegenhart should answer that, but he is formerly of Indian Hill, formerly of Miami, formerly a National Committee Member, not a Latin teacher, but ALWAYS at the state and national conventions.  He is the leader of Team Editor, b/c, well, I guess he and some other editors got together and called themselves Team Editor and got T-Shirts made.  And once you have T-Shirts, it's official.  Why was he on stage?  As the leader of Team Editor, he can apparently do whatever he wants.  But he and his Pets.com Sock-Puppet – it's true, it's true – were there to give a speech honoring good friend Sara Radosevich (IN) who was getting her 20-Year Silver Bowl.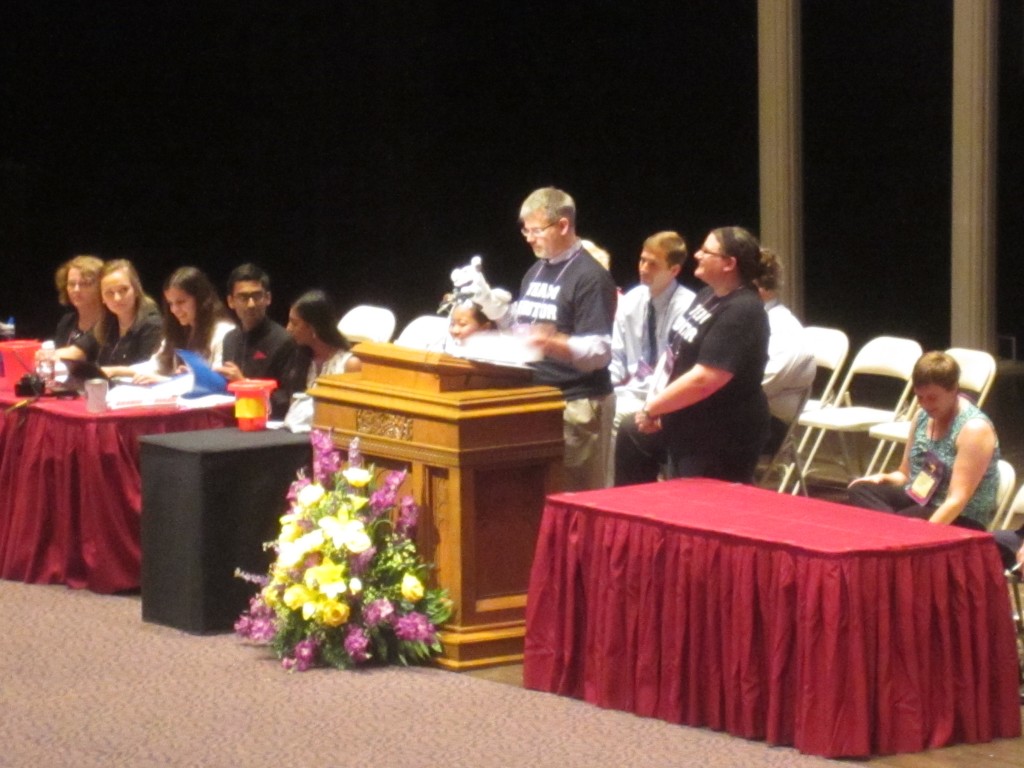 The National Latin Exam Committee recognized the many winners in attendance.  Over 140,000 students take this prestigious exam.  Some special awards were announced for the following OH Latin students:
Perfect Exam:  Patrick Casanas (Summit) and many others – sorry it happened very quickly, and there were a lot of you, and Patrick is my student, but you know who you are
4 Perfect Exams:  Alex Lathem (Westlake), Anav Sood (Shaker), Andrew Zhang (Columbus Academy)
4 out of 5 Perfect Exams:  Will Beatrez (St. Edward)
5 Perfect Exams:  Sameer Apte (Shaker), Ben Robertson (Shaker), Narayan Sundararajan (Shaker)
$1000 NLE Scholarship Winner:  Will Beatrez (St. Edward)
OH won 2nd in the Spirit Contest!  The prize was a package of 3 empty feed bags!  It's true, it's true!  OH Delegation Heads into GA 2 on State T-Shirt Day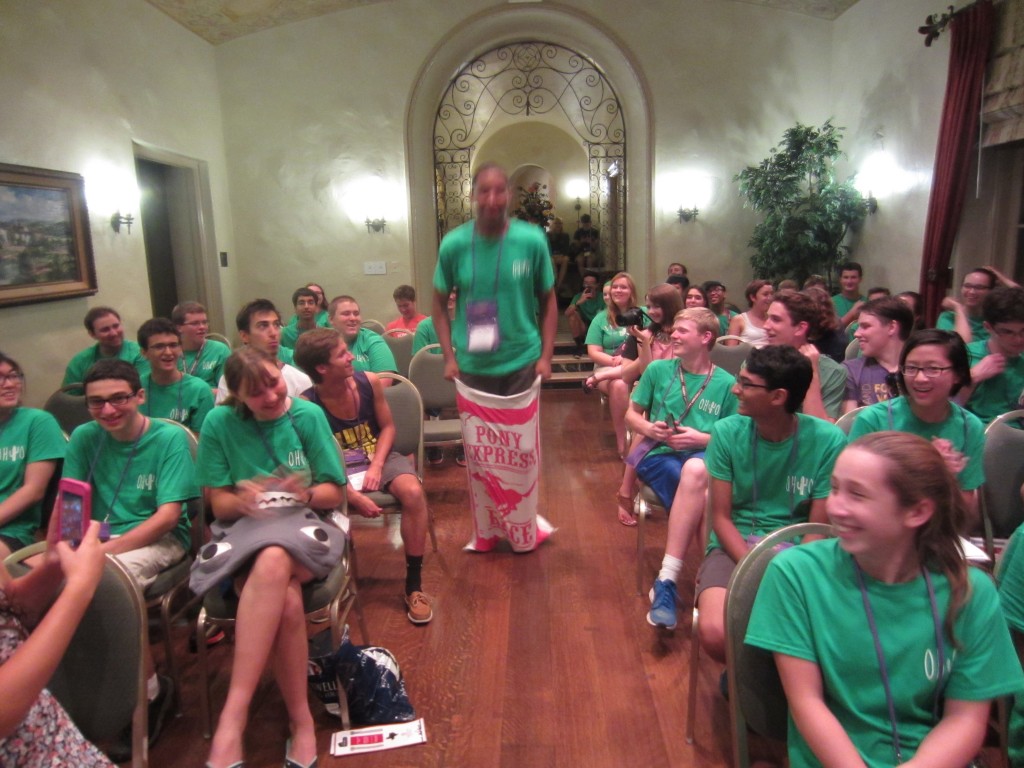 After GA 2 was the Nominations Committee Meeting.  Hannah Barrett has been Shaker's Historian for 2 years & the OJCL Historian for 1 year, and now she is running for the NJCL Historian.  She delivered her speech with poise and grace.  Tomorrow she does the informal Meeting the Candidates, and Thursday is the formal Open Forum with set questions in front of an audience.  run hannah run
The 1st round of Certamen was after lunch.
The Advanced team has Sameer Apte (Shaker), Will Beatrez (St. Edward), Jesse Campbell (Summit), Tullus Dean (Summit), Alex Lathem (Westlake), Matthew McMillan (Shaker), and Ben Robertson (Shaker).  Will, Jesse, Matthew, and Ben played the opening match against perennial power TX.  It was a tough round for OH, with TX playing fast and accurate.  Will got the team on the board late in the round to build some momentum for tomorrow.
The Intermediate team has Gautam Apte, Julia Cardinal (McAuley), Charlie Dwight, Peter Hattemer (Walnut Hills), Caroline Klette (Summit), and Michael Warden (Summit).  Gautam, Peter, Caroline, and Michael played the opening match against perennial power TX (sound familiar?) and a strong IL team.  Similar to the Advanced, it was a tough round for the Intermediates, with IL and TX both quick to buzz and coming up with the right answers.  Caroline got an early myth question to get them some points.
The Novice team has John Brady (St. Edward), Julia Dean (Summit), and Owen Kranz (St. Edward).  Julia buzzed in a number of times but was unable to score points in the 1st half of the match.  She stayed confident, and her persistence paid off with a number of correct answers in the 2nd half of the match.  The team ended with 70 pts behind her strong play.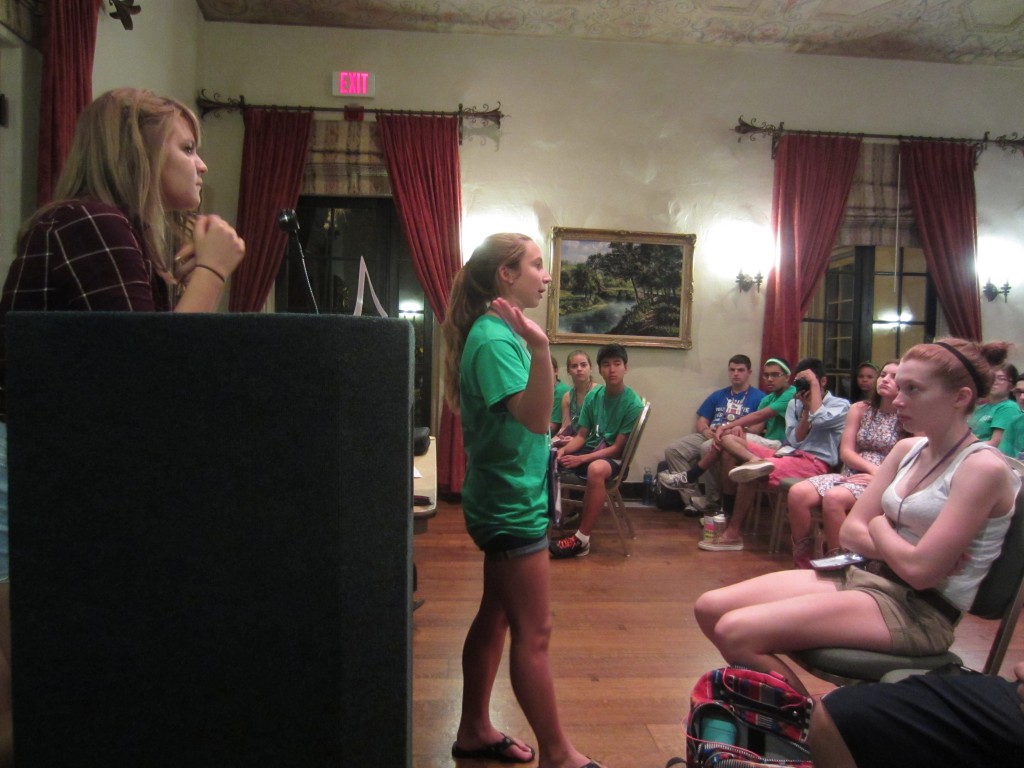 The delegation was in good spirits and rather rowdy (in a good way!) at fellowship.  Here are some random quotes:
Will from St. Edward:  'We play tomorrow at 12:00.  That's noon.'
Peter from Walnut Hills, captain of the Intermediate team:  'Well, we got 1/4 of the 1st 4 questions.'
Historian Josh from Indian Hill:  'There was a huge, little ping pong match in the Ohio Room.  Well, it was called the Fiesta Room, but now it's the Ohio Room.'  [Anav from Shaker won.]
Jesse from Summit:  ' We got 2nd in basketball because Matthew defected to VA.'
Aquila from Wellington:  'I was the shark today, but not again tomorrow.' [Hannah promised to wash the shark costume.]
State Chair Larry from Summit, in response to the vote to move the fellowship to the newly named Ohio Room:  'The nays have it!'  And then in response to shouts of protest:  'You are like Tantalus.  You can see it, you want it, you can almost taste it, but you can't have it.'
Catherine from Granville, on the choice between popcorn and sunglasses as a prize for helping out with spirit:  'I'm going with the food!'
Kelly from Westlake, checking to make sure everyone understood – and greatly disappointing her Latin teacher LP:  'Sound bueno?'