Click here for all the pix from the day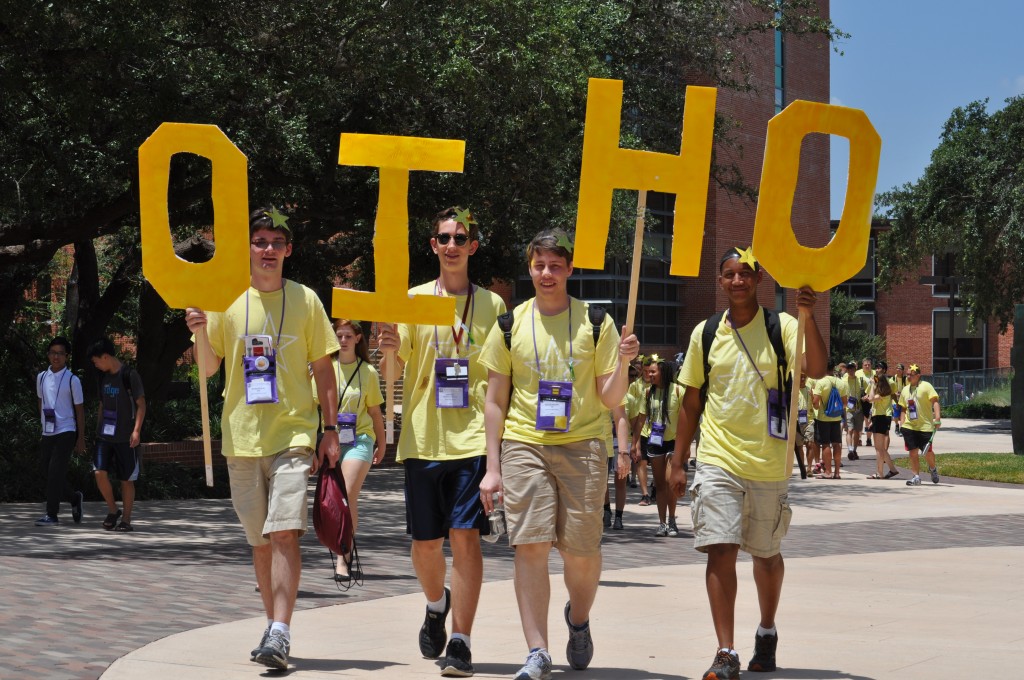 Possible Schedule for the Day:
7:45 am – Ludi Soccer (and OH won!)
8 am – Academic Testing Session 4 (Vocabulary, Greek Derivatives, Latin Literature, Greek Life)
10:15 am – Certamen Semi-Finals (Intermediate did well but lost, Advanced won and is onto the Finals!)
11:15 am – More Colloquia
12:15 pm – Open Forum (where Hannah answered set questions from NJCL officers and did a dance)
1:45 pm – State Fellowship for Voting (almost all of the candidates OH selected were voted into office) – MANDATORY
3:15 pm – GA 3 – MANDATORY
4:45 pm – Awards Assembly:  Academics
6:30 pm – Dinner and Games in the Courtyard
8:30 pm – That's Entertainment Talent Show – not mandatory, but everyone goes
11:15 pm – Fellowship
12:30 am – Lights out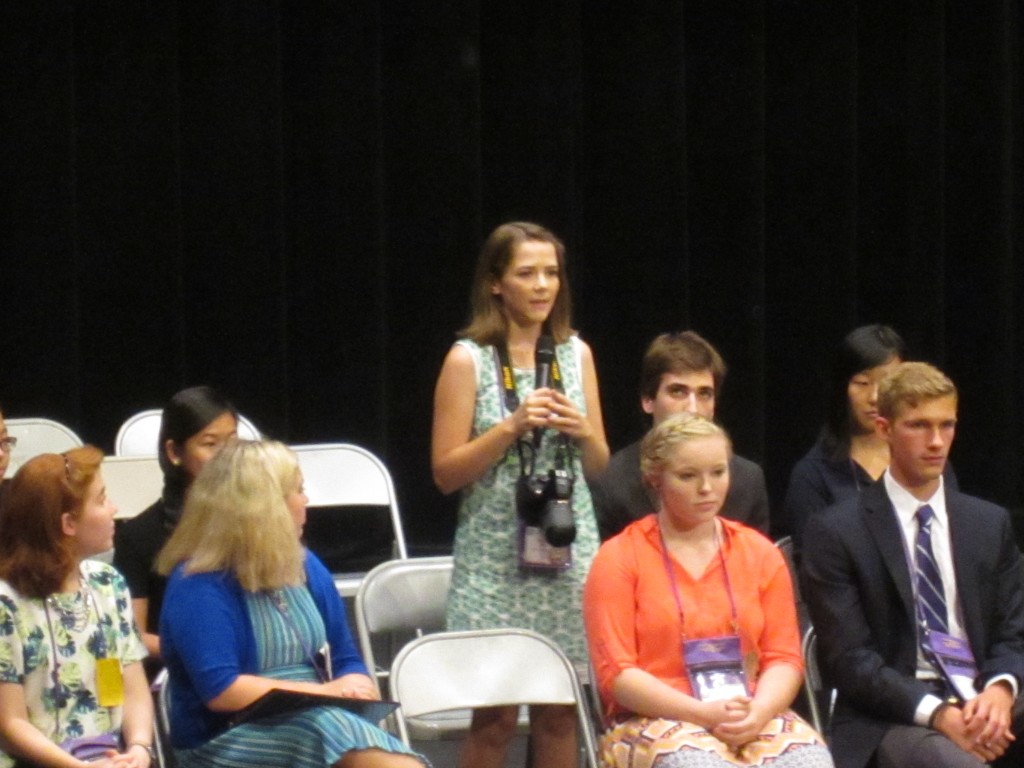 My schedule?  2 certamen Semi-Final rounds, watching Hannah at Open Forum, Fellowship for Voting, GA 3, Awards Assembly, Sponsors Banquet, That's Entertainment, and finally Fellowship again.
The bad news?  Lindsey sprained her knee during soccer and was in a wheelchair.  Elisa from Summit twisted her ankle, which necessitated the wheelchair, which Lindsey gladly gave to her as she transitioned to crutches.  The good news?  There is a bug going around which has made a few people sick, but OH is (so far) free from this.  And, at GA 3, Hannah was elected to the NJCL Board!
Intermediate had their Semis first.  Captain Peter Hattemer was nowhere to be seen at the start of the round, so we grabbed the nearest shark we could find and threw him on the team.  And – what do you know? – that shark snagged the first question and put OH in the lead!  Gautam followed with another answer on question #6, and they got the coveted VISUAL for their bonus questions.  FL and TX then kicked into gear, and the final score was FL 100, TX 80, and OH 40.  Congrats the team for great showing!
Advanced got off to a great start and was up 40 pts after 5 questions.  After 10, their lead had narrowed to 5 pts.  But the team grabbed 2 of the next 4 and had a 30 pt lead going into the final 5 questions.  IL grabbed 2 of the 5, but OH got a favorable ruling on #17 which put them up 20 pts heading into the final question.  Senior Ben Robertson sealed the deal by nailing a myth question.  Sameer played fast and loose all round, and Will was steady as usual.  The Finals are tomorrow at 12:20 pm.  Optimam Fortunam!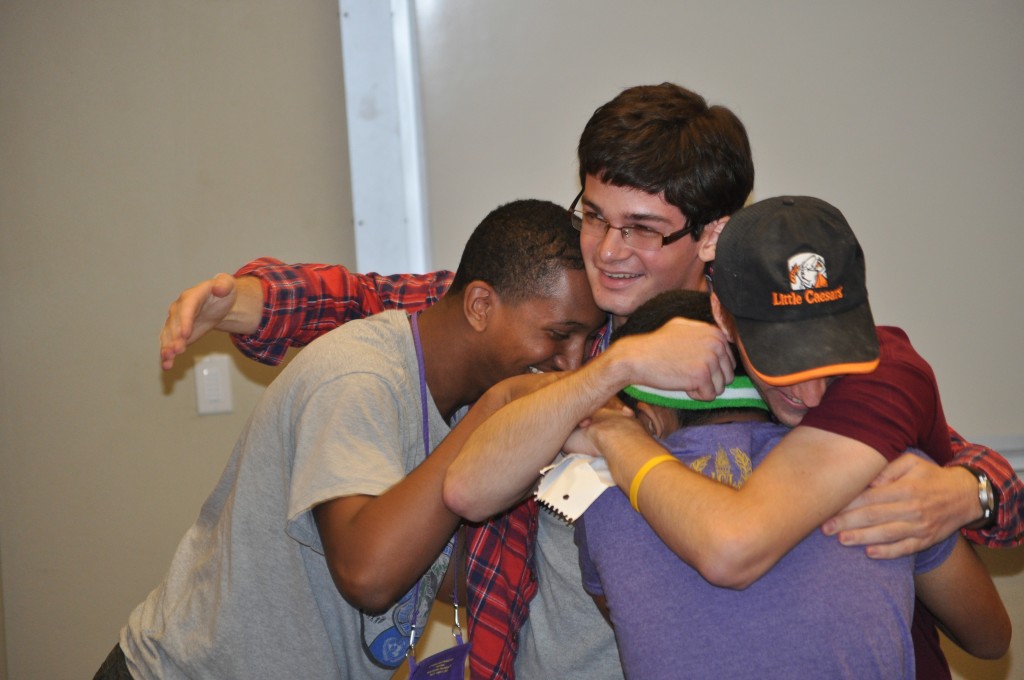 Hannah and the other candidates were on stage to answer a few set questions at Open Forum.  Even the balcony was filled for this event.  Hannah again was thoughtful and eloquent in her answers.  There is always 1 funny question, and this one had each candidate 'dance their dance.'  Click below to see Hannah's response
The Voting Fellowship was run by Parliamentarian Brian Johnson (Shaker).  They had to select OH's choice for the 7 different NJCL officers.  Well, really only 6 b/c of course we voted for Hannah!  The whole discussion is very formal and follows Robert's Rules of Order, with delegates not speaking until designated by the chair and then identifying their name & school before offering their thoughts.  The opinions were well thought out and showed a real seriousness about the process.  Brian did a masterful job leading the delegation to its decision for each of the 7 offices.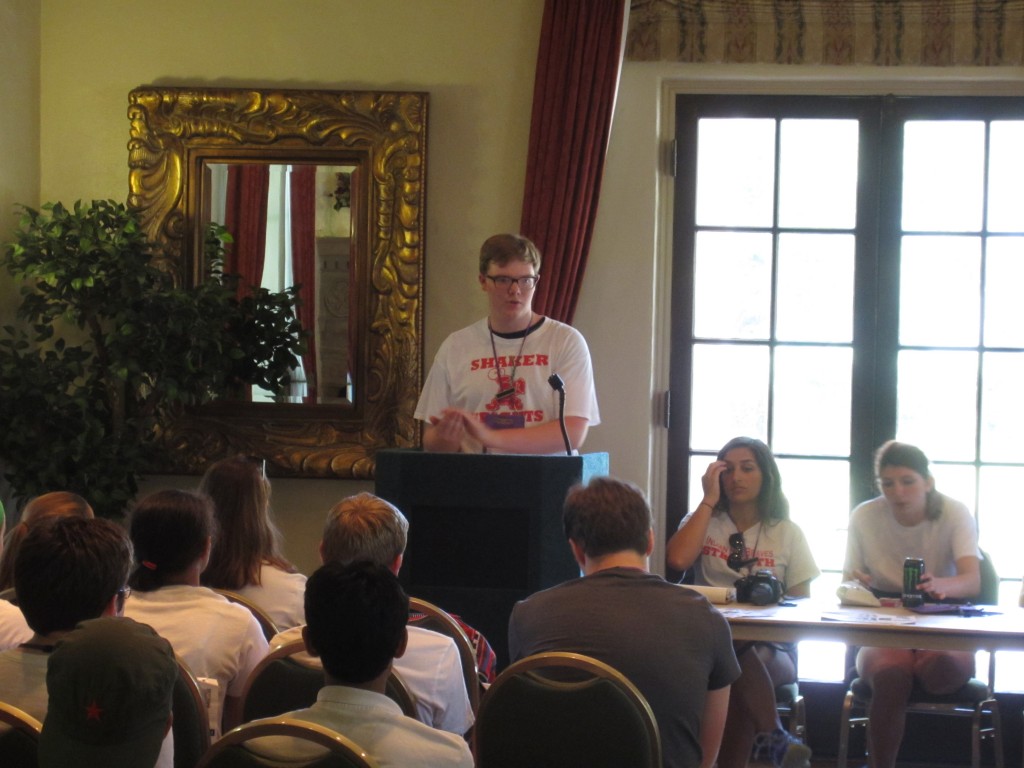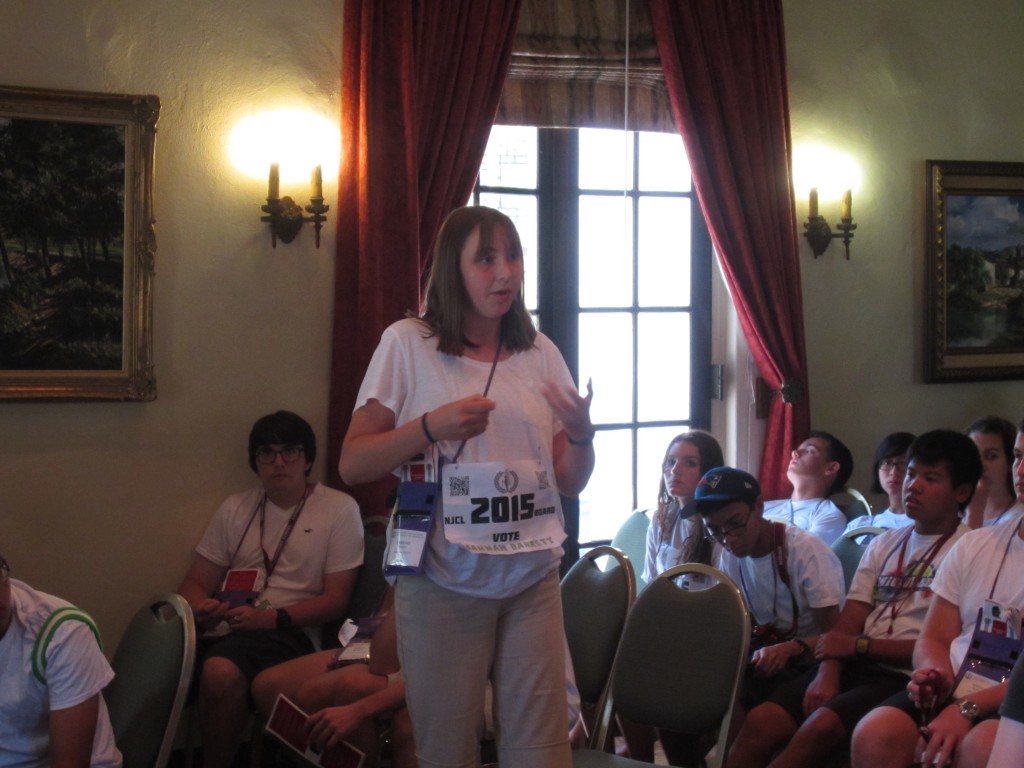 Who is Amy Elifrits?  She is the Lakota East teacher, has attended 20-something conventions, serves as the NJCL Creative Arts Chair, and is the Chair of the NJCL Executive Board.  What does that mean?  Amy is the MOST POWERFUL PERSON AT CONVENTION.  It is hard to get close to Amy, even for those from her home state of OH, b/c her lictors (Secret Service) aggressively use their fasces (pokey-things) to keep back the plebeians (hoi polloi).  She led the convention delegates through the annual ritual of revealing the number of conventions everyone has attended.  Susan Shearer of VA has spend over 1 year of her life at NJCL Conventions.  It's true, it's true.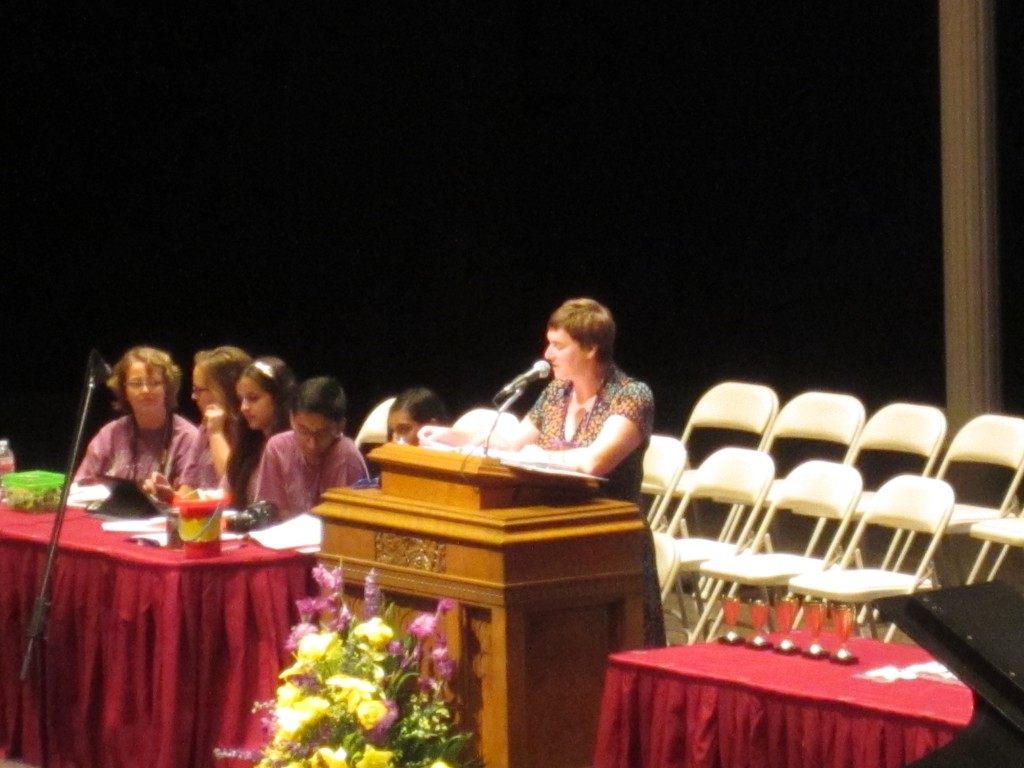 Three OH students won NJCL scholarships during GA 3!  Latin = $.
Jesse Campbell (Summit) – the National Latin Honor Society 'Anne Covington' Scholarship
Ben Robertson (Shaker) – the NJCL 'Rhea Miller' Scholarship
Narayan Sundararajan (Shaker) – the NJCL 'Renata Motiu' Scholarship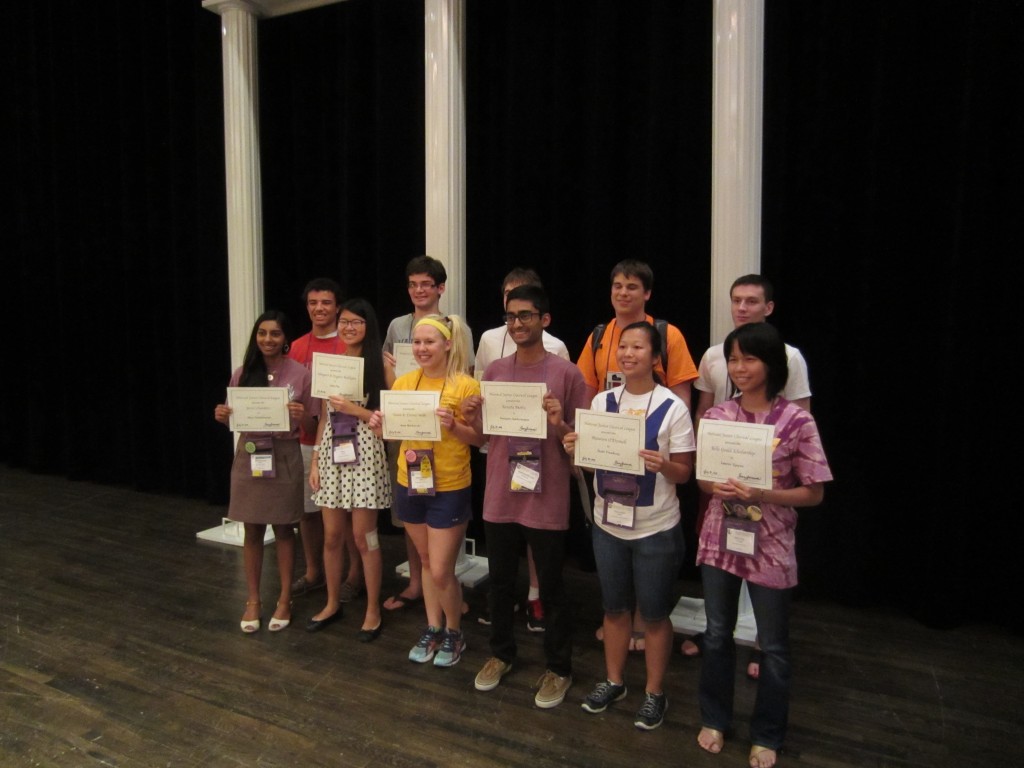 The sponsors banquet was very nice.  Awards won during the year are announced, retirements are celebrated, raffle prizes are given out, good food is served, the organizers of the convention are honored.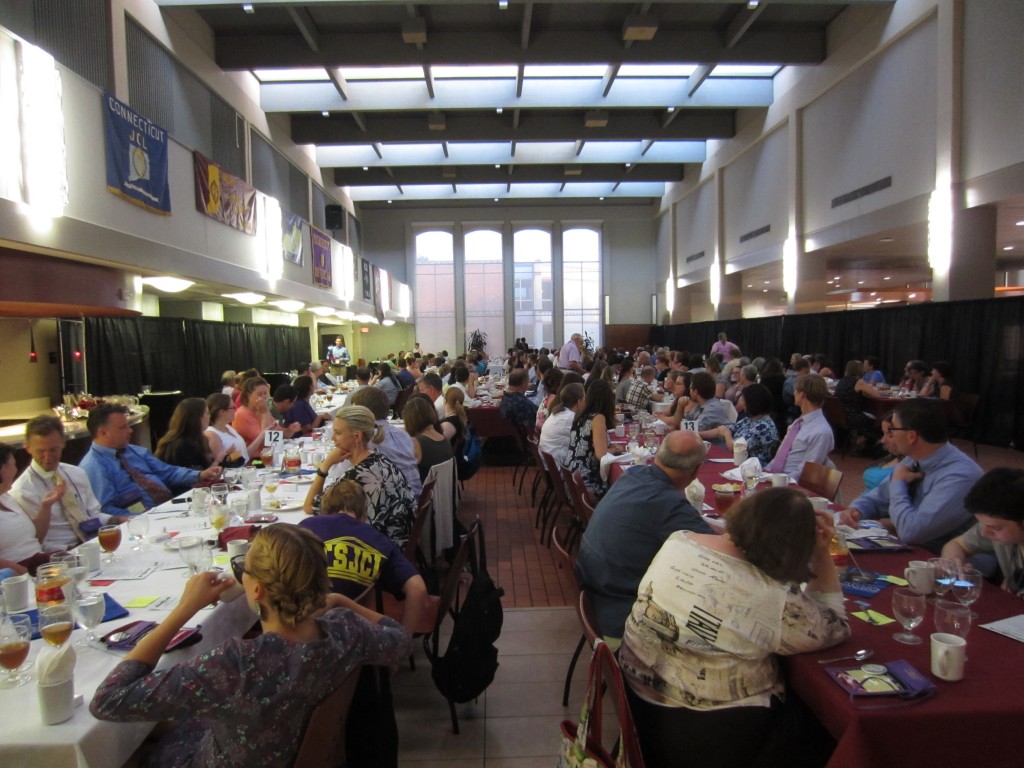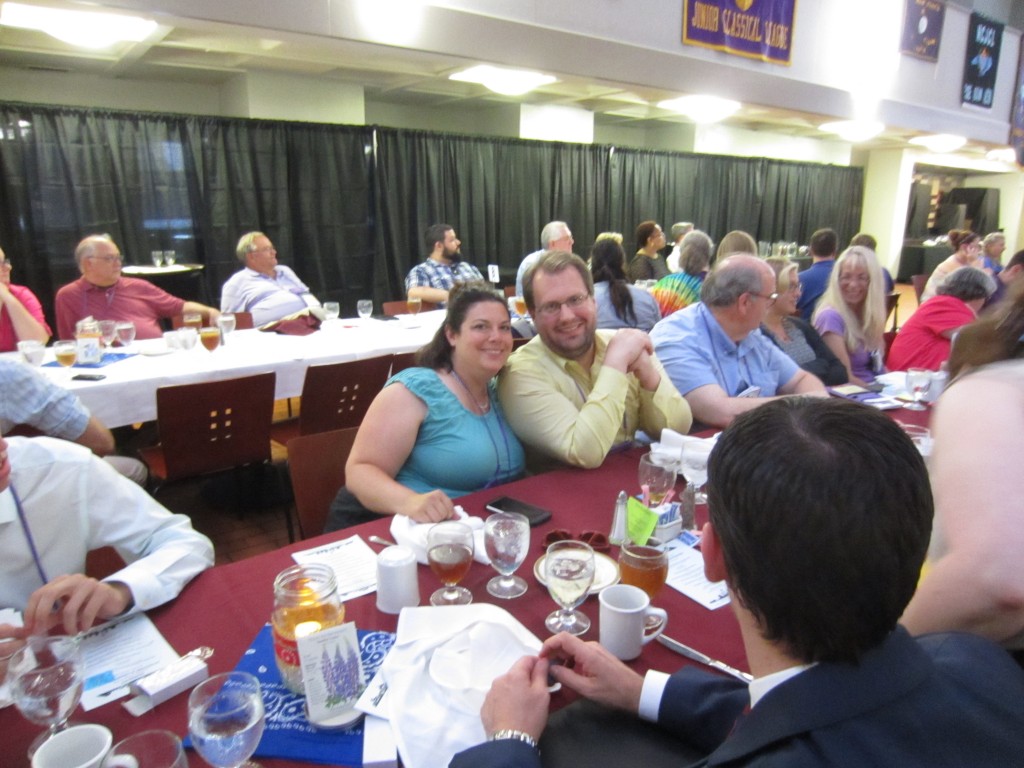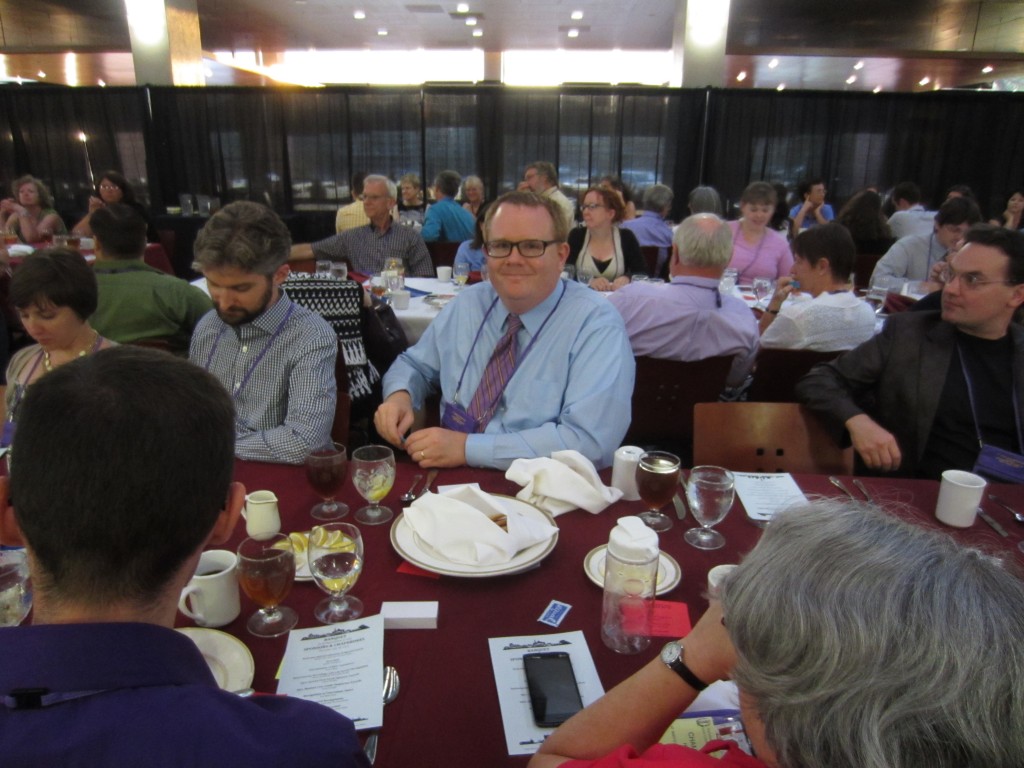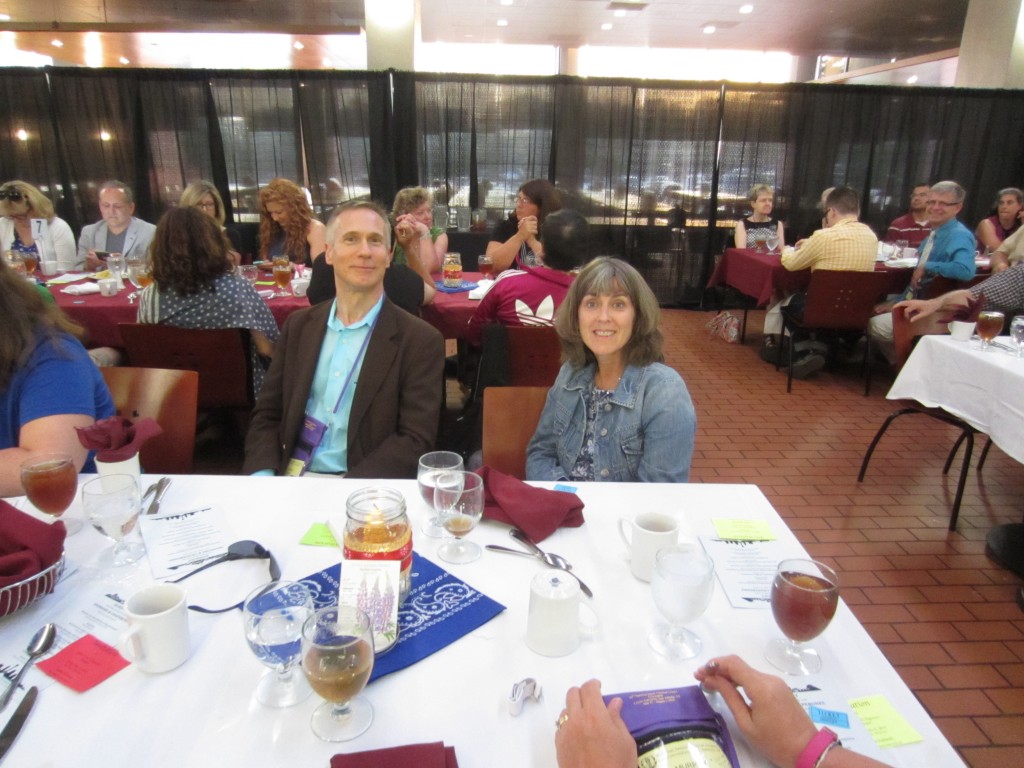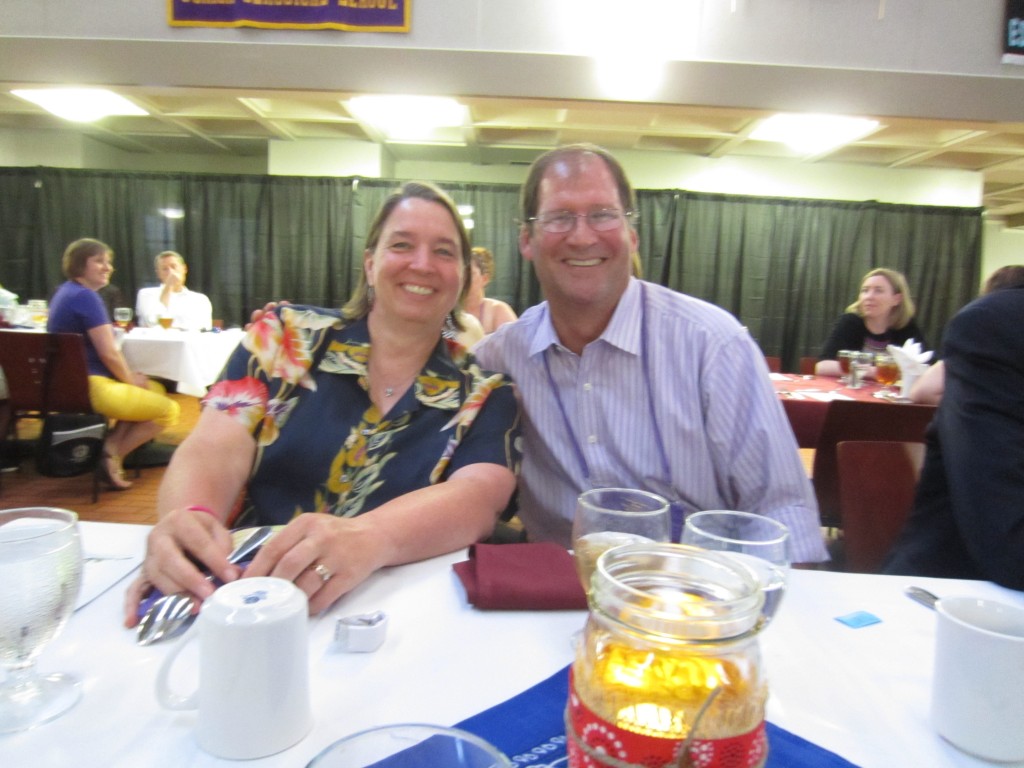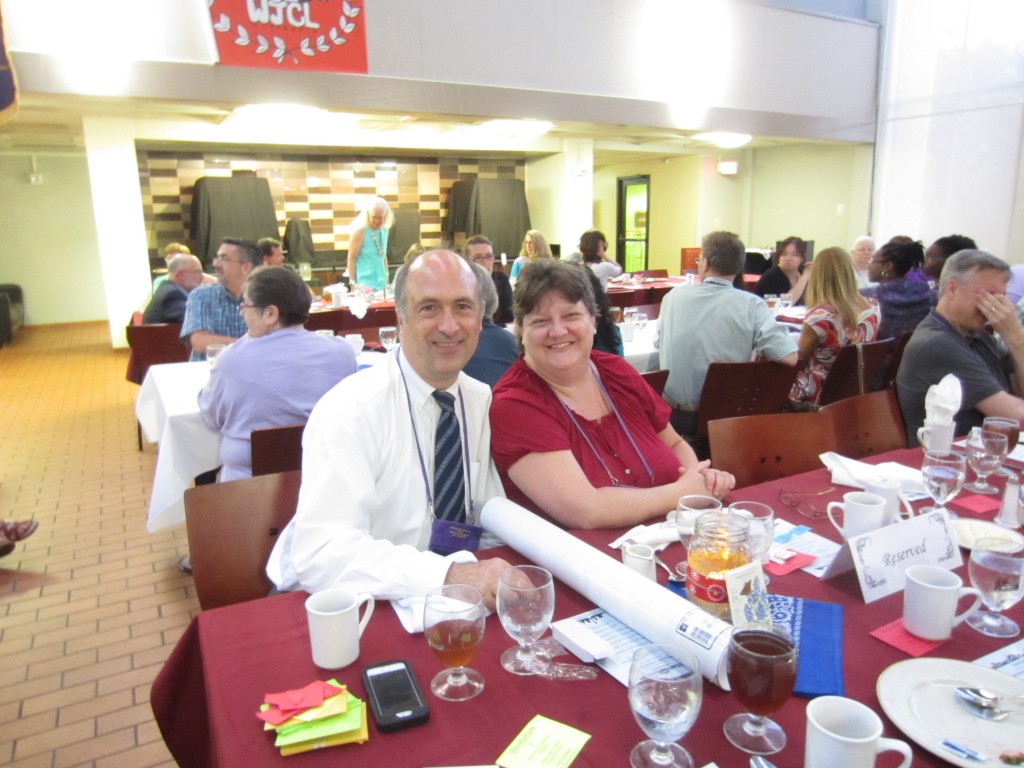 That's Entertainment was, well, entertaining.  Brian has friends in high places and allowed me to get a good seat ('he's with me').  Former OJCL President Heather (no last name, please) was one of the hosts and did a fabulous job.  Andrew Boudon and Bobby McDonald and the other SCLers participated in skits and served as the stage crew.  There were original songs and dances and show tunes and piano solos.  And, of course, the Racketeers.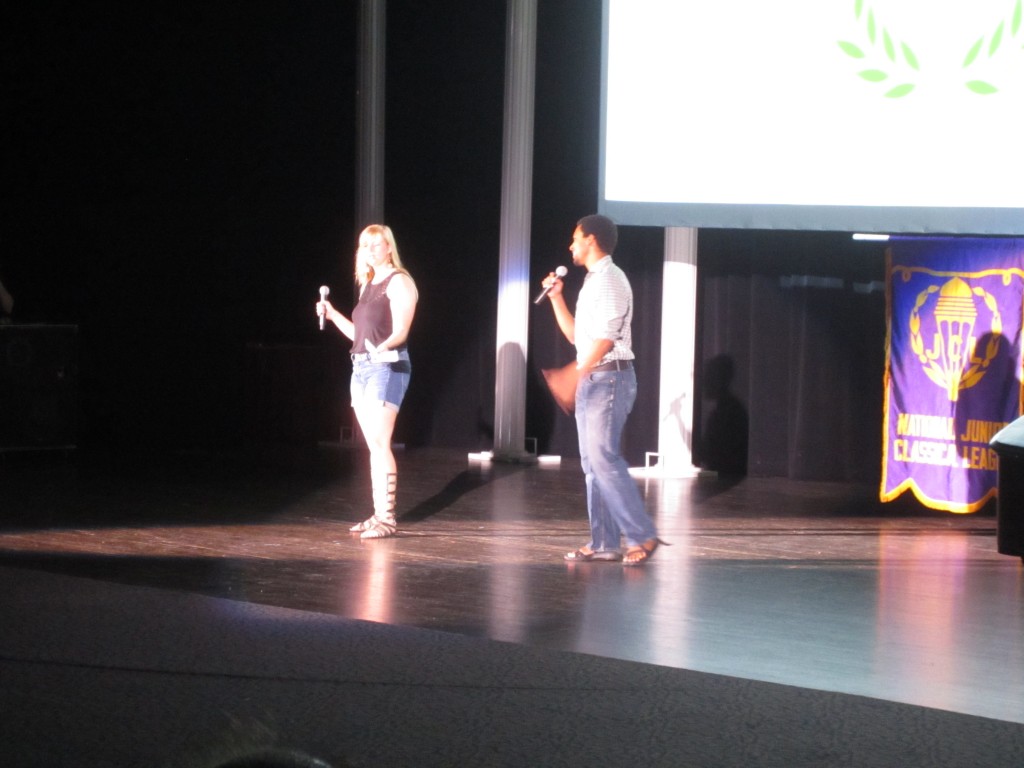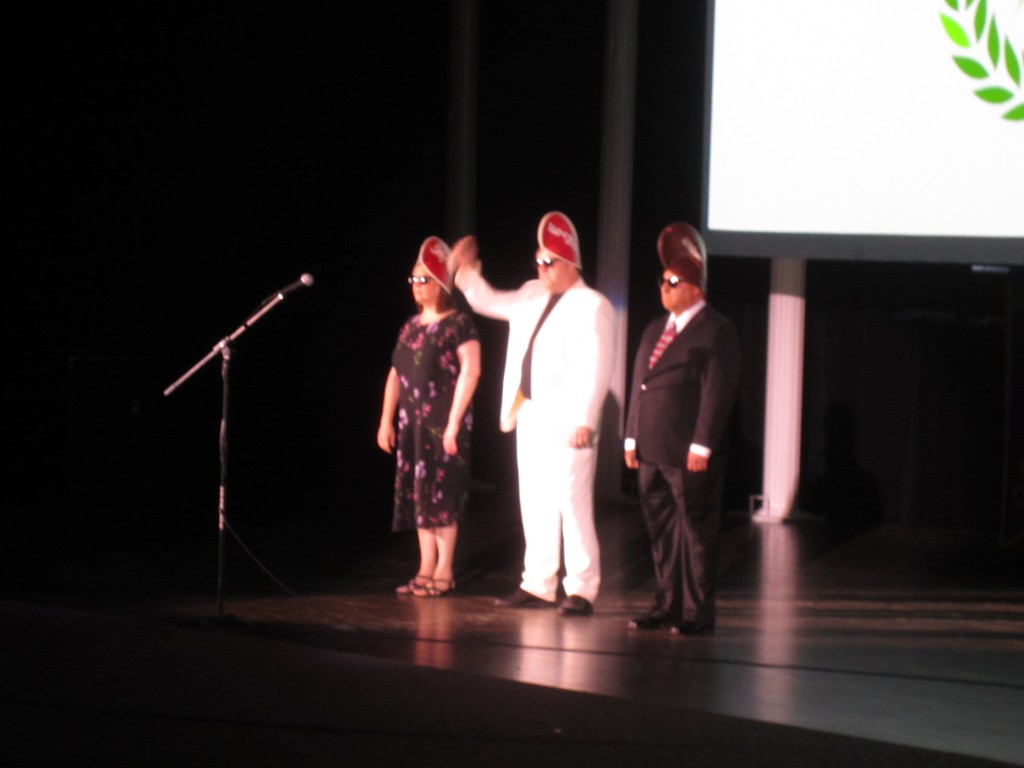 At the nightly fellowship, Bradley did a great impersonation of Kelly, whose voice has been monstrously altered b/c of shouting during spirit, and Dustin was finally able to read the minutes from the previous fellowship.