Click here for all the pix from the day
Stuff going on the final day of convention:
6:30-9:00 am – breakfast
7:30 am – Ludi Volleyball
8:00 am – Awards Assembly 2, Graphic/Creative/Athletic – 2nd VP Sara Z led a group of OH students to collect any ribbons for those that did not attend – ribbons for 1st-5th (only at the assembly, certificates for 1st -10th handed out at the Fri night fellowship)
9:30 am – Open Certamen – for those who like certamen but do not devote large portions of the year and the summer to preparation
9:30 am – more Graphic Arts viewing and Multimedia viewing (there are number of contests for promotional and educational videos like this one shown at GA 3)
12:30 pm – Advanced Certamen Finals – OH vs CA vs FL
12:00-2:00 pm – go get the art project brought to convention, or never see it again
1 pm and 2 pm – more Colloquia
4:15-4:45 pm – Toga Parade – usually a mile or so outside, but the triple-digit heat advisory has forced the convention to shorten the route drastically – EUGE!!
4:45-6:45 pm – GA 5
6:45-8:00 pm – Outdoor Dinner
7:30-11:00 pm – World Series of Certamen – where college students and adults and certamen coaches play the game with a humorous twist, at least until the finals and then it is all business – the Bad Larrys traditionally make the Semis, not the Finals…
8:30-11:30 pm – Farewell Dance – semi-formal!
8:30-11:30 pm – Karaoke
11:45 pm – 12:15 am – Fellowship
1 am – Lights Out!
4:30 am – Lights On and out of the rooms to catch the airport bus for the Cincy folk
I slept in a bit today and then did the walk up Cardiac Hill (seriously, that is what they call it on campus) to get my coffee.  I ran into Adam Williams (formerly of Fenwick, then OSU, then Latin teacher at VA then AZ now FL starting in a couple of weeks).  Then Brian joined us.  Adam left to watch the Intermediate Certamen Finals, Brian headed off to the SCL banquet (remember that Troy was doing his magic act there), and I stayed to finish my coffee.  Then I got ice to Elisa (whose ankle looks much better) through Aquila.  Then off to the Advanced Certamen Finals.
The auditorium was packed, with hardly a place in either the main theater or balcony.  OH again got off to a fast start and was leading by 15 pts after 5 questions.  CA was never a real threat but the FL machine soon started clicking, taking 7 of 10 in questions 8-17.  Sameer was again fast & loose, getting 3 language questions, and Ben got a myth question.  The final score was FL 140 OH 60 CA 35.  A special thanks to seniors Sameer Apte (Shaker), Will Beatrez (St. Edward), Jesse Campbell (Summit), and Ben Robertson (Shaker) for their many years of dedication to Latin and OH – remember, they are the ones (along with Narayan) who are getting well-deserved $$$ at college for their efforts!
At the project viewing, projects which received awards were marked AWARD.  Here are a few from OH: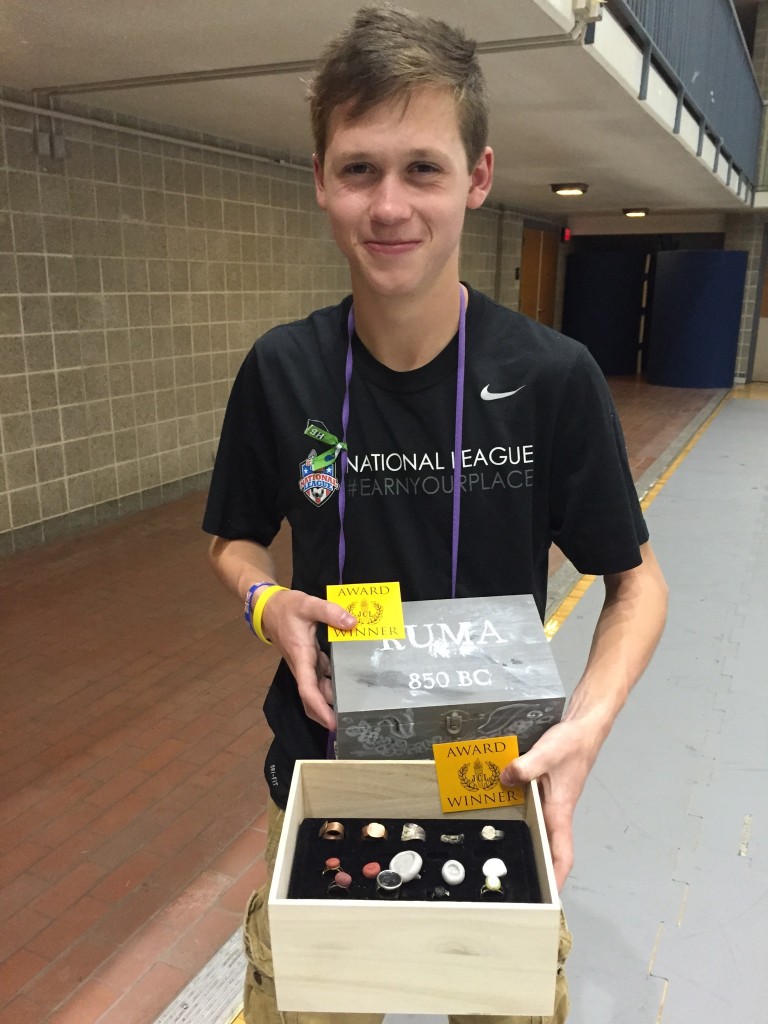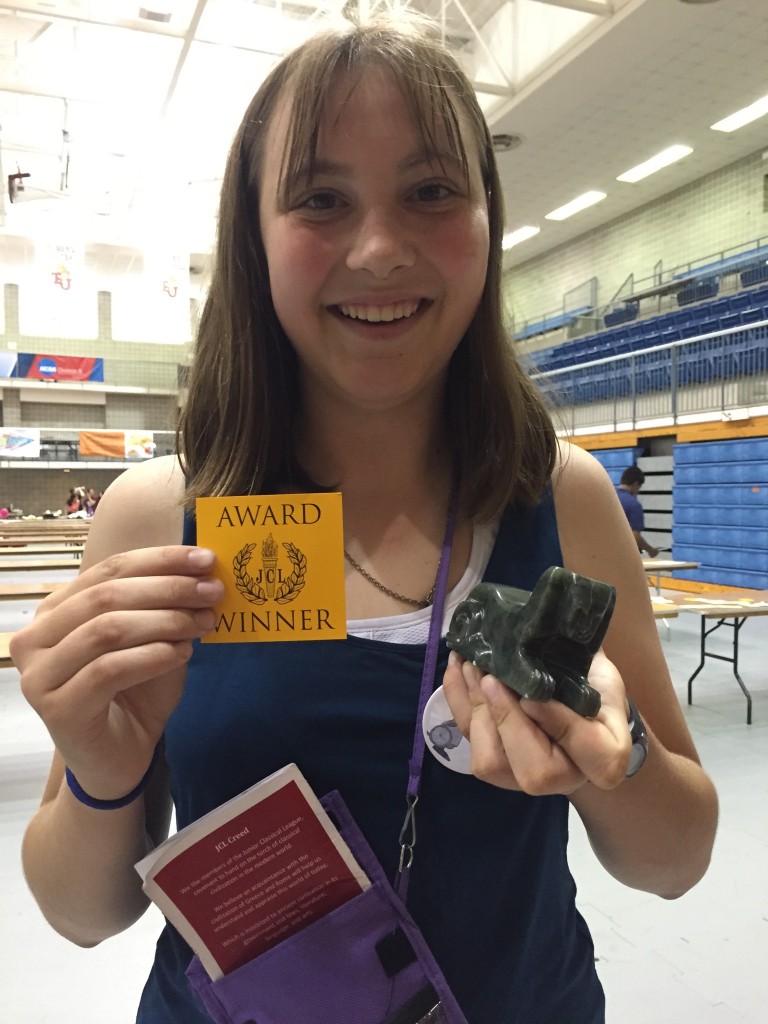 I will do the highlights of GA 5 through the captions of pictures, so just keep scrolling down: