[Click here for 30+ photos and click here for the 1 video – username is dean_l@summitcds.org and password is njcl2011.]
51 students, 1 college graduate, and I met at Summit at 6:30 AM to begin our journey down to Wake Forest University in Winston-Salem NC for the 2012 NJCL Convention.  Steven Malseed was the last to board the bus, a little after 7:00 AM – he had thought the meeting time was 7:30 and believed he would be early.  But, no worries, because our bus driver Richard had not even finished cramming all the luggage beneath the Croswell tour bus.  Richard later noted that there would be a new driver for our return trip since he was picking up the Harlem Globetrotters in Philadelphia.  Nice juxtaposition of passengers.
It was 8 hours of driving with a rest area stop, a lunch break (pretty much Wendy's or Subway), and a 2 hour visit to the Pilot Mountain State Park.  We arrived on campus at 5, were settled in by 6, had eaten by 7, and had the rest of the evening to play pick-up ultimate or connect with old friends or meet new friends or kick the hacky-sack or play Ninja or watch Disney's 'Hercules.'  OH met for its nightly fellowship meeting at 10:30, and students were all in their rooms – some going to sleep and others clearly not – by 11:45.  Convention formally begins tomorrow with the 1st General Assembly at 1 pm.
Various things that I remember from the trip, in no particular order:
Some students had never been to Virginia or North Carolina.  Each has a Latin motto.  VA is 'sic semper tyrannis' (thus always to tyrants), and NC is 'esse quam videri' (to be rather than to seem).  go latin go
Pilot Mountain was really nice.  Some students played cards, some did the short 200 yard hike, some did longer ones, some did trail running.  I did all 3 hikes – the Pinnacle Overlook, the Jomeokee, and the Sassafrass.  The Sassafrass went way down and then – inevitably – way back up again.  I was hot, sweaty, and tired by the end.  So was Christian Lipa.  Students were waiting on the air-conditioned bus, ready to go, by the time I was finished.  Christopher Samaan was not happy with his sweaty neighbor Dustin Argo.  No injuries, everyone survived.
My son Tullus is making his 1st trip to Nationals.  go tullus go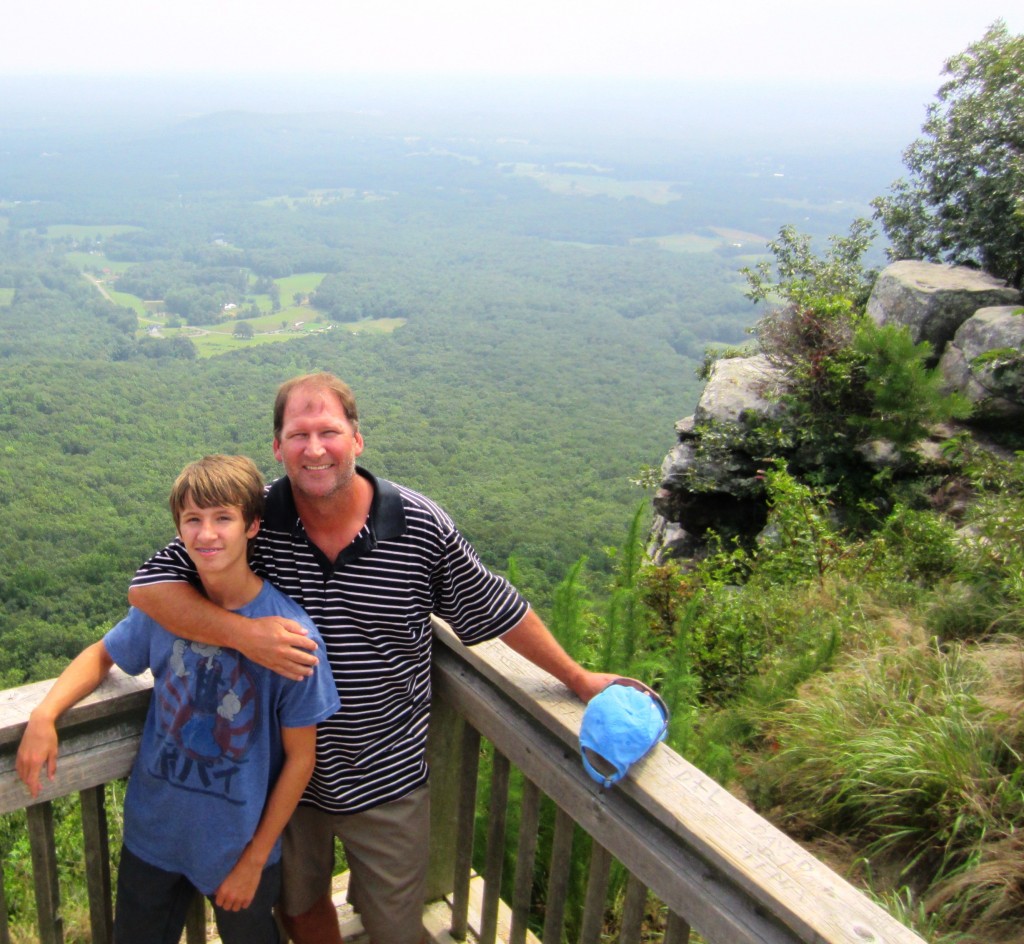 Wake Forest has a very nice campus – and this is from a graduate of Jefferson's University of Virginia.  Some pictures on another day.
The West Virginia Turnpike feels even more curvy on a bus.
The dining hall was filled with students renewing friendships from last year.  I spotted many soft ice creams.
Melissa Burgess, Indian Hill teacher and NJCL Graphic Arts Chair, told me that she might miss the late night state fellowships.  I excused her – but only after  seeing the doctor's note that she is 5 months pregnant.
Emelie St. Cyr, Wellington teacher, and Bryan Inderhees, fellow OJCL State Chair, announced their engagement.  Latin not only enriches minds but only brings people together.  go latin go
Kelly McBride was so excited about her 1st trip to Nationals that she did not sleep last night.  So she zonked out for some of the bus ride.
Chris Lapp helped Mollie Effler to do some mythology review.  Jesse Campbell and others told stories about chipped teeth.  Mike Clark is now officially known as 'Honey Bun' for donating 48 of them to his fellow OH students.  Mr. Honey Bun has already learned how to win friends and influence his neighbors.
The dorms are nice but weird and confusing.  Some singles, some doubles, grouped into pods of 4 or 5 rooms but with no common area.  The air-conditioning works well.