[Click here for photos and click here for some videos – username is dean_l@summitcds.org and password is njcl2011.  For the videos, use the Folder pull down window and change to NJCL 2012.]
Today was a long day:  project judge at 8 am, lunch with other State Chairs at noon, GA at 2, a short break, dinner at 5, round 1 of Competitive Certamen at 6:30, and then a late fellowship which ended at midnight.  As I mentioned earlier, things get busy fast.
My judging assignment was Multimedia.  The person in charge was K.C. Kless – husband of Rachel, father of young Samuel, Indian Hill MS teacher with my wife Andrea, and computer guru.  Ed from TN and Natalie from TX were my fellow judges.  We had 6 in the 7th-9th grade category and 12 in the 10th-12th grade.  Each one is under 5 minutes, and the type varied widely:  PowerPoints (boo!), animation, stop-animation, short films, music videos, documentaries, stories.  It has to have a classical theme and be electronic, and that's about it.  Well, it took a long time, and K.C. said we were the last of his groups to finish.  We spent a full 3 hours viewing, discussing, and finally ranking the projects.
My personal favorite was a great animated story about Latin grammar:  why 3rd conjugation verbs have both long e's and i's in its forms.  Yes, more fun than you can shake a stick at.  Another was a song – with Latin lyrics! – on the tune 'Call Me Maybe' by Carly Rae Jepson.  It was based on Vergil and called 'Voca me Dido.'  The one that really made me laugh was the 'epic rap' between Hera, Athena, and Aphrodite during the Judgment of Paris.  It had hysterical lyrics and well-timed dance moves.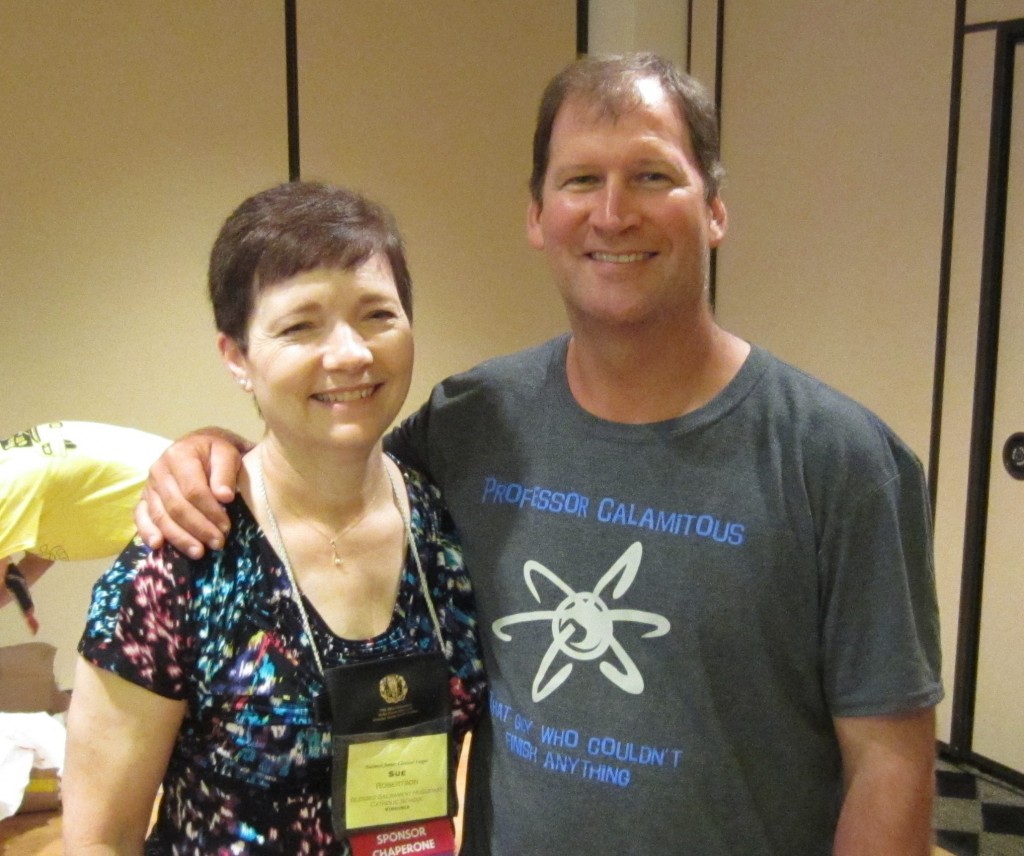 The lunch for all the State Chairs was nice.  We were served a tasty chicken salad with fresh fruit and cheesecake.  I sat with fellow OH Chair Bryan Inderhees and some others from Nevada, New Jersey, and South Carolina.  I did the annual picture with MY Latin teacher Sue Robertson.  [Here is a shout out to my old friend and former VJCL State Officer Curt Board, with whom I roomed at my 1st NJCL at Richmond in 1984!]  The convention next year will be in Las Vegas at UNLV.  N.B:  I will NOT be planning a bus trip there.  In 2014, we travel down to Emory University in Atlanta, the home of my sister Paddi and her family.  Her daughter Gracie takes Latin at Grady HS, and I recently met her teacher at an AP Latin conference in Cincinnati in March.  It's a small world after all.
The GA on Day 2 included the recognition of winners on the National Latin Exam.  Students who earned perfect scores all stood up.  OH had a bunch of them, too many to name, but I know that Summit's Dustin Argo was among them.  OH also had 4 students who earned 4 consecutive Gold Medals (really hard to do):  Nina Gurevitz from Columbus Academy, Allison Kao from Shaker Heights, Tom Carroll from Westlake, and another student whose name I did not catch (sorry).  Tom also was recognized as an NLE Scholarship winner!  He now has $4,000 to put towards his education at Rice University in Texas.  Latin is truly alive – and it sometimes even gives you money!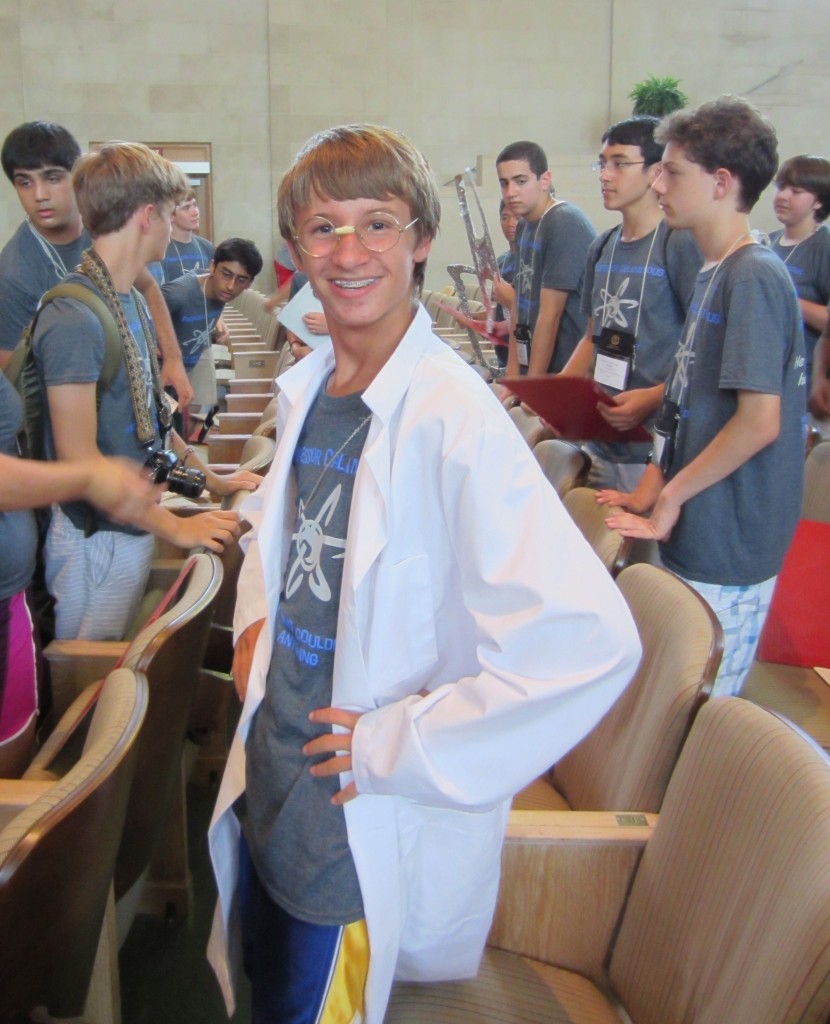 During this GA, each state also did Roll Call, where the number of delegates and teachers are announced.  Mark Samaan and JP Schmitz did a great job announcing OH's 171 people.  I am not sure exactly what they did, but everyone laughed.  See the Shutterfly account for a (very bad) video of their presentation.  Hawaii's one delegate revealed that the state is finally off its double secret probation.  As a fan of Star Trek, I liked the parody of Captain James T. Kirk where he made sure to set his phaser on 'fun' before arriving at convention.  And, always last but never least, the Wisconsin cow made its usual appearance on the stage.
There was a serious storm soon after the GA.  I overheard a NC teacher say to others, 'Get under cover!  You don't mess around with a Carolina thunderstorm!'
Competitive Certamen began today.  There will be 2 more rounds tomorrow, and then the top 9 qualify for semi's on Sun, and finally the top 3 will appear on the Big Stage on Monday for the Finals.  I am the OH Certamen Coach, but often I receive help.  Well, this year, Summit alumnus Chris Lapp stepped up big time and devoted his entire summer to prepping the teams for the national competition.  Regardless of the outcome of the competition, Chris has been a terrific teacher and really enjoys training the players to be the best they can be.  go chris go
Who are the certamen teams?
The Novice team had a very difficult 1st round against perennial power FL and up-and-coming GA.  The OH players were very nervous and played tentatively.  Adam and Alex got some questions to break the ice.  Final score:  OH 65, FL 150, GA 60.  The team looks forward to the rounds tomorrow where they hope to unleash their potential.
The Intermediate team has the toughest draw of all the teams for the 3 preliminary rounds.  Round 1 took place in the 'big room' against MA and VA.  All 3 teams are very good, and it was a terrific round.  Final result:  OH 70, VA 90, MA 195.  There was 1 MA player that dominated the 2nd half of the round and will be a formidable opponent for any team.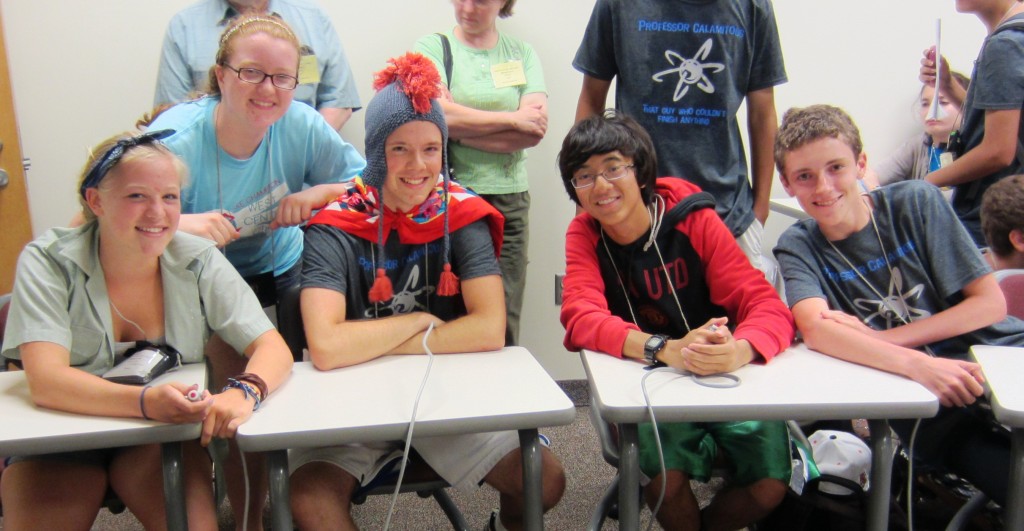 The Upper team had an easy first round against OK and NC.  Tino and Tom dominated the round, and Carter got a nice history question about the Latin Wars.  Final result:  OH 250, OK 15, NC 50.  After 1 round, OH Upper is 3rd out of 21 teams.
Fellowship was very late, 11 pm to midnight.  Everyone was upbeat, positive, and eager to share their experiences at convention.  There is always a discussion of the day's events and then a preview of the next day.
Miscellaneous stuff from Fellowship:
Emily Haussler on English Oratory:  'I had to change my speech because the national rules are different from the state rules, so I was a bit worried.  But it went pretty well!'
Adam Sichel on the History Test:  'It was great.'  Chris Lapp added, 'He owned it!'
Grant Smith (Brookwood Community Learning Center) on the Alexander the Great colloquium:  'The professor was actually funny, which is nice.'  Grant was also given an award for his enthusiasm during Spirit before GA.
Will Beatrez on the Essay Contest:  'I wrote about Odysseus, and it ended up really good.'
On Spirit before GA:  Treasurer and Leader Muhammad Patel said, 'Well, we tried, and we did get progressively better.'  NE Representative Narayan Sundararajan told everyone, 'I lost my voice, and it was worth it.  Everyone should lose their voice.  Unless you are singing at That's Entertainment [the end of convention variety show that showcases JCL talent].'
Parliamentarian Bobby McDonald, who gave the closing speech at the Day 2 GA:  'I was really nervous, but the cheers from OH calmed me down up there.  Thanks.'
Tino urged OH JCL'ers to attend the certamen matches:  'We love seeing your beautiful faces as we play.'