[Click here for photos and click here for some videos – username is dean_l@summitcds.org and password is njcl2011.  For the videos, use the Folder pull down window and change to NJCL 2012.]
I slept in a bit today and missed breakfast.  So I went to get some coffee at the Starbucks in the library.  Much to my horror, it was closed due to water damage.  I asked the person at the information desk where I could find some coffee.  'There is nothing else on campus.'  I began to feel very tired and a little panicky at the same time.  I do not drink coffee all day but do require a 'jump-start' in the morning.  Luckily, there was some coffee in the tiny convenience store in the basement corner of the student center.  My Saturday could now begin.
Schedule for the day:  lunch, certamen round 2, GA, dinner, certamen round 3, a break, and then fellowship at 11:15 pm.  Keep in mind, this is just my schedule.
Here is the schedule for the students:
Tullus and Nathan Whitsett and others did the Marathon at 7:30 am.  It is not REALLY a marathon, but usually a 5K run.  But then they said it was a 3K, but Tullus realized too late that it was just a mile.  So, for him, it was a pleasant short jog in the morning.
The students then had a testing session at 8:30 – Myth, Mottoes/Abbreviations/Quotations, Ancient Geography, and Greek Derivatives.  A group of OH students in the courtyard said the geography was really hard.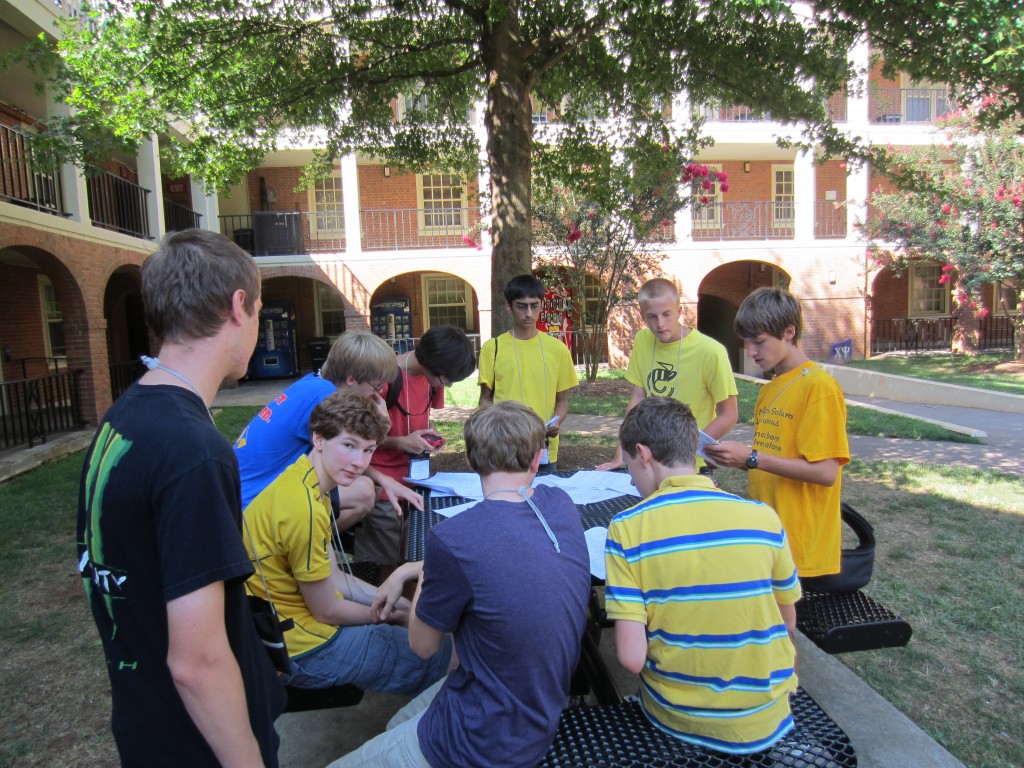 Some students then participated in the Impromptu Art contest.  Each student is given a bag with various stuff in it – alum foil, googly eyes, markers, pipe cleaners, etc – and he/she creates a classically-inspired work of art with only those materials.
Later, students could 'Meet the Candidates' to get to know the candidates better.
Others went to Chorus rehearsal.  During the next GA, while the voting delegates cast their ballots, a chorus of JCL'ers will entertain the crowd, and this is their last practice before the performance.  Mark Samaan commented at Fellowship:  'I am normally a tenor but am singing bass here because I lost my voice during Spirit.'
Soccer happened in the evening.  It is called Ludi Soccer since sports & entertainment in ancient Rome were called that:  the Ludi Circenses were chariot races, the Ludi Apollinares were competitions in honor of Apollo, the Ludi Scaenici had theatrical performances, etc.  Muhammad and others said the game against IL was pretty physical but still fun.  JP Schmitz of Walnut Hills commented, 'The whole ND team wore Olympic Soccer Development shirts, but we still only lost by 1 goal.'
The weather was really nice.  At Fellowship later in the evening, SW Representative Lauren Salem (Ursuline) said:  'Let's give a round of applause for the weather!'  Everyone readily assented.
There was a Roman camp set up on campus for the day.  At the nightly Fellowship, Grant Smith (BCLC) wore a helmet which he had purchased:  'I went over there 2 or 3 times, and it was still awesome!'
The bazaar – where various Latin clubs sell stuff as a fundraiser – happened again in the evening.  This is a great place to meet & greet & interact with students from all over the country.  And you can buy some cool swag.  Tullus bought a ceramic lion which he named Scipio.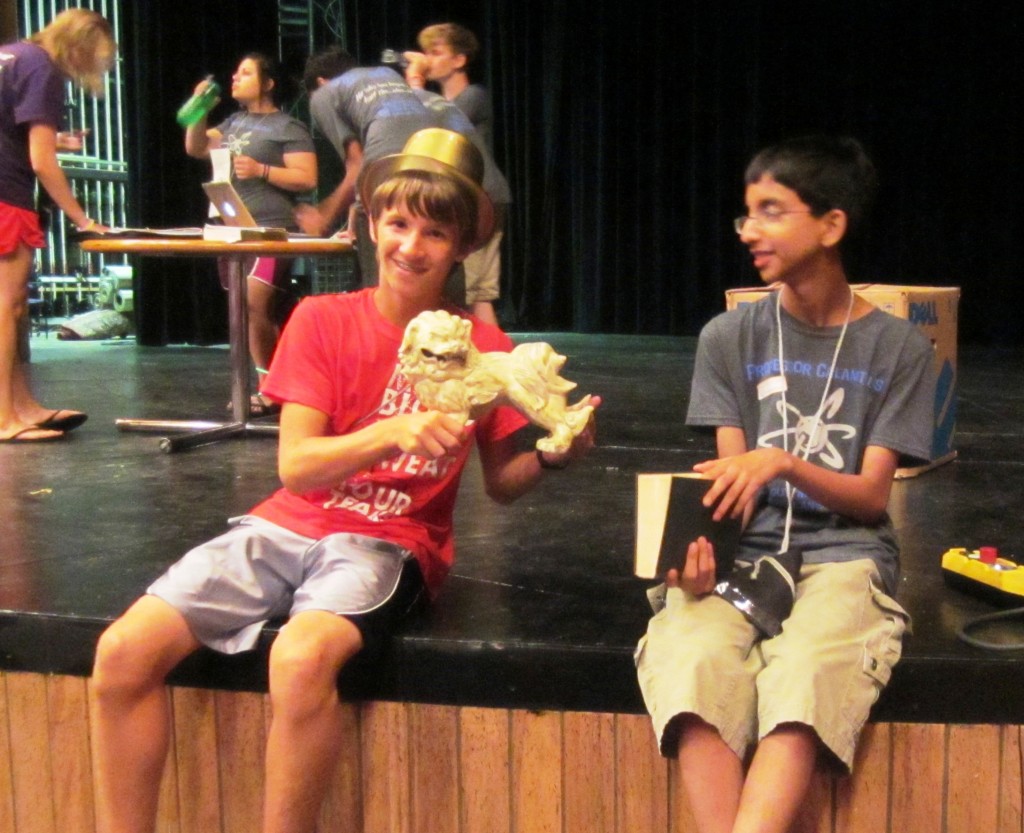 At night, there was: the Classical Art contest, and half of the questions are on slides of classical art;  the nightly dance (Bobby said that the music is getting better); open swim; or just hanging out with old/new friends.
Highlights from GA Day 3:
Parliamentarian Sam Buck lead the assembly in the JCL Creed.  go sam go
Each year, they recognize the number of conventions attended by each person.  It starts with the 1st time attendees, then the 2-5 years, then the 6-10, then the 11-15, then the 16-20, and finally the individual names of all who have attended 21 or more are announced.  This is my 14th convention:  1 as a JCL'er + 13 as an OH teacher.  This is the first convention for Tullus.  Laura Giles of TX was honored with the rare Silver Platter for attending her 40th convention.  But Susan Shearer from VA wins the contest with 52 conventions.  Amy Elifrits – who is very, very powerful – remarked, 'That means that Susan has spent about a year of her life at an NJCL Convention.'
A bee landed on Chris Lapp's leg during GA.  He instructed me to kill it with my program.  I hit it but did not kill it.  Just made it angry.  But not as angry as Achilles.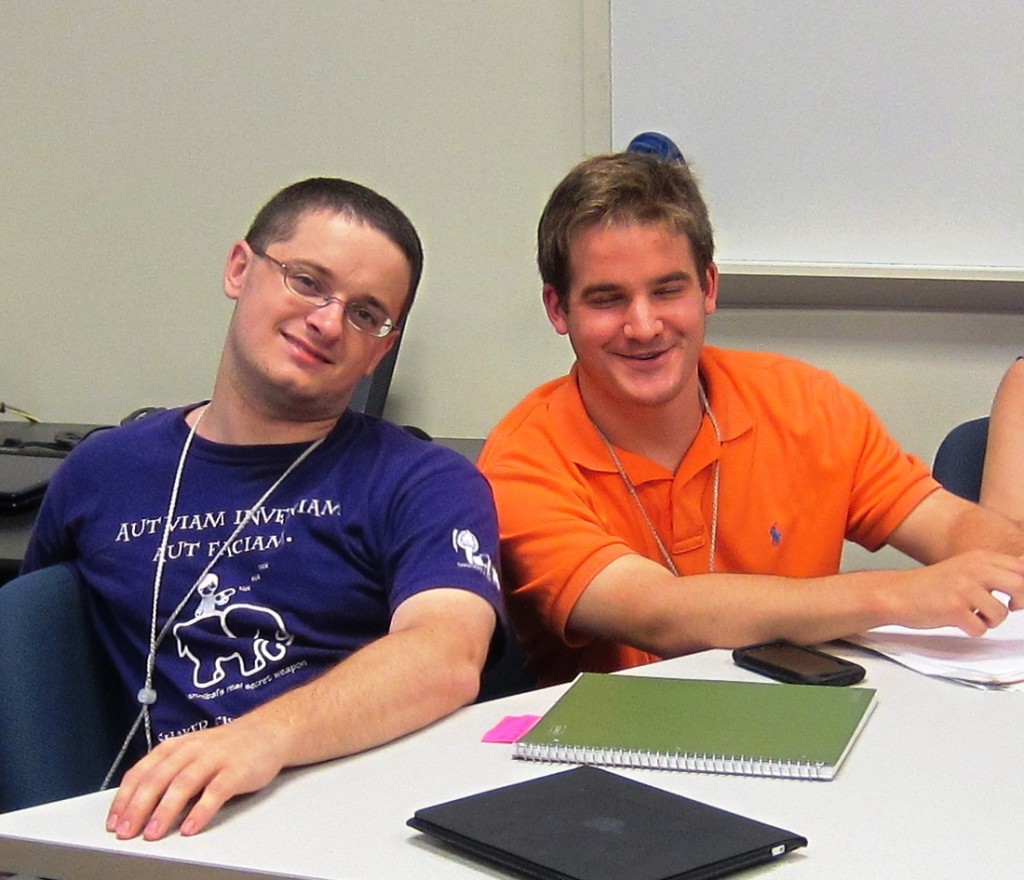 This GA had the candidate speeches for the various national offices.  It takes a lot of guts to speak in front of 1,600 people, and they did a good job.  The highlight for me was when candidate James Dow of GA mentioned that he was able to juggle all the responsibilities of parliamentarian.  And he then proceeded to juggle 3 balls for the final 30 seconds of his speech.  I am not sure if that skill makes him a good officer, but I was impressed.
Regina Merrill – rising Summit senior, President of the Summit Latin Club, OJCL Editor of next year's Torch issues – won an award for School Newsletter for the 2nd year in a row.  Her 'Vox Latina' earned 3rd in the Nation.  Eugepae, Regina!
The Summit Latin Club was also recognized for its dedication to service.  Summit won 1st in the Nation for community service with 353 total hours.  Tino Delamerced earned 2nd in the Nation for individual community service (147 hours), and Anna Delamerced won 1st in the Nation with a whopping 292 hours.  We are all very proud of Anna & Tino for their selfless work for others.  go delamerceds go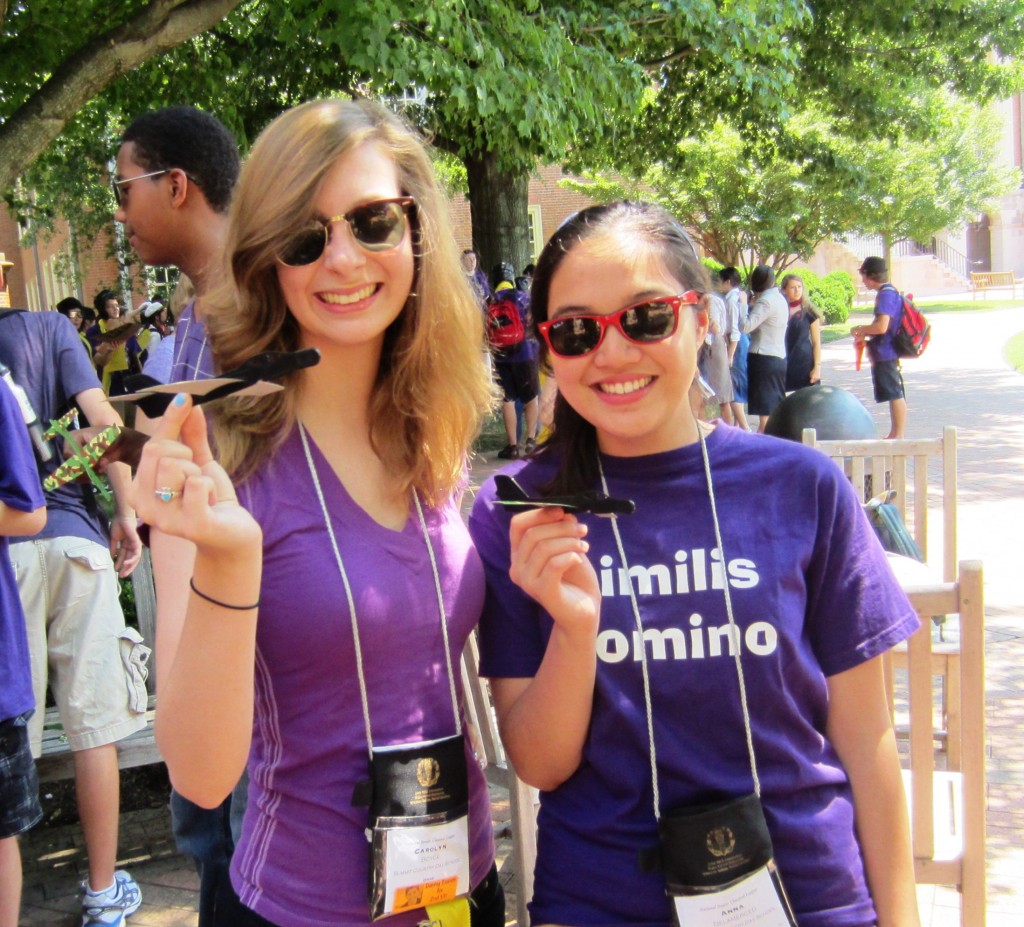 There is a 'coin war' to raise money for charity at convention, and the NJCL officer who collects the most gets to donate the proceeds to the charity of his/her choosing.  Presently, our own Sam Buck is in 1st place (which is good), but the winner is also rewarded at the end of convention with a pie in the face (which is better).
Certamen Update after Rounds 2 and 3
All 3 teams made the Semi's!  All are fairly low seeds, in the 7th and 8th range, but anything can happen in a round of certamen.  The Semi's all happen at the same time:  Michael Cowett (Shaker, Harvard) will be in the Novice room, I will take Lower, and Coach Chris will be with the Uppers.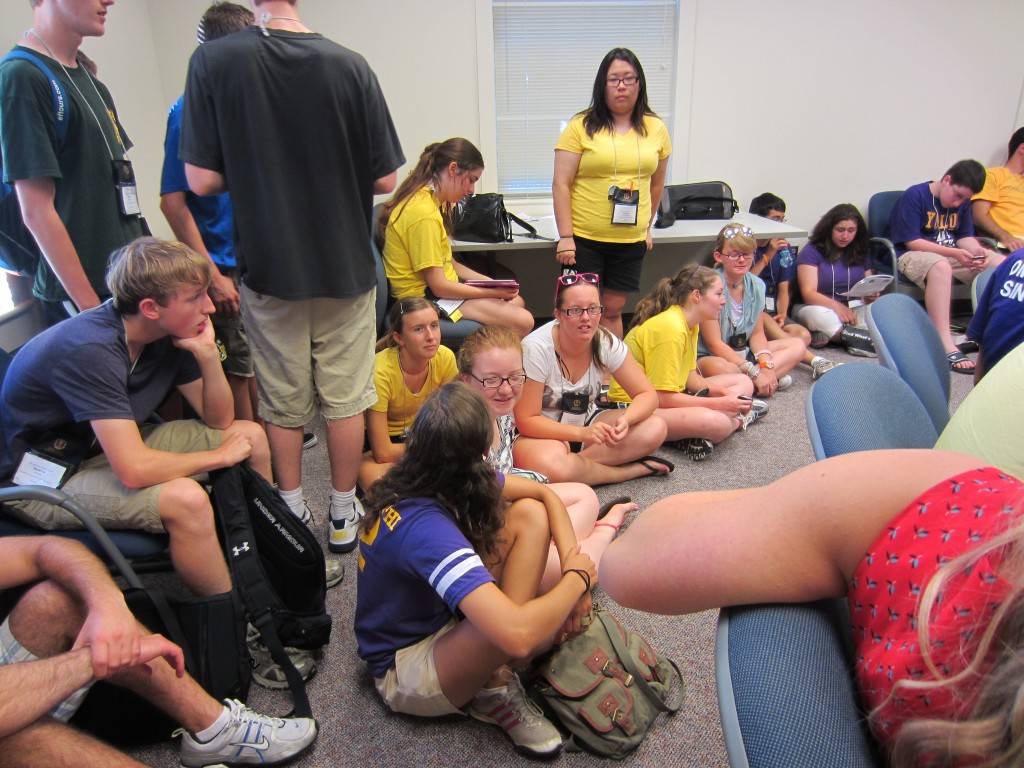 The Novice team had a good day in Rounds 2 and 3.  Captain Adam Sichel nicely settled in after yesterday's jitters and led the way to solid rounds.  Dustin Argo got a myth question, and Alex Lathem came on strong at the end of the 3rd round to build his confidence for tomorrow.   They finished as a 7th seed and play 1st seed VA and 6th seed GA.
The Lower team is really beginning to click.  All 4 players made key contributions during the day, and their speed is picking up.  The victory over FL in the 2nd round was particularly impressive.  They are the 8th seed and will face 2nd seed VA and 5th seed IL.
The Upper team did not have 1 of its better days.  They played average in round 2, but a red-hot MA team took them out of their game in the last round.  All the players are veterans of nationals, so expect a hungry and ready team tomorrow!  They earned the 7th seed and will be matched against 1st seed VA and 6th seed GA.
So, OH plays VA in all 3 levels, GA in Novice & Upper, and IL in Lower.  GO OHIO GO!