THE SEVENTIETH STATE CONVENTION OF
THE OHIO JUNIOR CLASSICAL LEAGUE
March 5-7, 2021 at Crowne Plaza Columbus North
(but maybe virtual)
 Suadeo a te impetres ne sis nugax.
"I advise you to ask of yourself not to be a fool."
Petronius, Satyricon 52
---
Each year, the OJCL hosts a convention in Columbus which brings together over 800 students, teachers, and parents from across the state of Ohio to celebrate the study of Latin.  There are a variety of competitive activities at the convention: academic tests, art contests, certamen, and creative performances (in both English and Latin).  In addition, the convention offers a number of social activities, including a dance, a toga banquet, and OJCL's Got Talent! State Convention is also an opportunity for students to run for the OJCL Executive Board. Delegations compete in various contests to win prizes and recognition in Overall and Per Capita.
---
Announcements: 
Unfortunately, the 2020 convention has been cancelled. Click here for more information (3-10-20)
The 70th OJCL Convention Program (2020 edition) is here! (3-4-20)
Want to win $ at the convention talent show?  Sign up for OJCL's Got Talent!  Audition is Fri night, actual performance is Sat night.  Performances can be singing, dancing, playing an instrument, stand-up comedy, anything that is entertaining. (1-22-20)
OSCL Packet Award Results:
Full Packet Award: She'miah Irvin, Walnut Hills
Half Packet Award: Michael Hall, Summit Country Day
Half Packet Award: John Paul Schuette, Moeller (1-16-20)
The spirit themes for the 2020 OJCL Convention are out now, they are: Friday-Convention Theme (Club T-shirts), Saturday-Rome on the Range (Farms), Sunday-Tides of March (Beach/Ocean)! The Spirit Rubric is also out now! (1-11-20)
The 2020 OJCL Convention Roll Call Guidelines are here! (1-11-20)
The sign-up for Agora at the 2020 OJCL convention is now open! Your school can sign up here! The form will be open until 11:59 PM on Feb 28th. (2-4-20)
---
THE SIXTY-NINTH STATE CONVENTION OF
THE OHIO JUNIOR CLASSICAL LEAGUE


March 8-10, 2019 at the Crowne Plaza Columbus Columbus North
 Soles occidere et redire possunt.
(Catullus, Carmen 5.4)
Crowne Plaza Floor Plan Map of Conference Rooms
---
2019 OJCL Convention Election Information (This link is no longer live because elections are concluded 3-27-19)
Convention Photo Scavenger Hunt!
Once you have taken all 15 photos, present them to Secretary Andrew Cahall for special recognition. Don't be shy to ask for a photo, who knows, you might meet your new best friend! Have fun and Bonam Fortunam!
Take a picture with:
An OJCL board member
A candidate running for office
Someone who speaks another language
Someone who is an only child
Someone who is left handed
Bread at the banquet
An apple or clementine
Someone wearing a college shirt or sweatshirt
An SCLer
Your Latin/Greek teacher
Someone with the same zodiac sign as you
Someone wearing a non-white toga at the banquet
A Game Boy or Nintendo DS
An OJCL's Got Talent! performer
Your roommate(s)
---
Upcoming Deadlines:
Convention registration (completed by sponsors): January 18, 2019
Pre-Convention Contests due (completed by students): Friday, January 25, 2019
Candidate PreFile (completed by students): Sunday, February 17, 2019
Creative Arts & Certamen registration (completed by sponsors): March 1, 2019
Sign up for Bazaar/Agora table here!: March 5, 2019
Graphic Arts registration (online, completed by students): March 5, 2019
Roll Call submission: March 7, 2019, 11:59pm.
---
Announcements:
If you are attending Convention, please fill out and turn in this OJCL Media Release and Conduct Form.
Want to win $ at the convention talent show?  Sign up for OJCL's Got Talent!  Audition is Fri night, actual performance is Sat night.  Performances can be singing, dancing, playing an instrument, stand-up comedy, anything that is entertaining.
Treasurer Katlyn Havlin is proud to release the 2019 OJCL Convention Spirit Themes! Also take a look at the Spirit rubric and Roll Call Guidelines.(2-6-19)
Register for the "Bazaagora" here! (1-28-19)
Have you ever wanted to give a speech at Convention? Submit to the Speech Contest! Deadline is February 25th. (1-27-19)
Parliamentarian Marcus Grewal is pleased to release the 2019 OJCL Executive Board Candidate PreFile form. The deadline is Sunday, February 24, 2019. (1-20-19)
---
Thanks to everyone who attended State Convention 2018!
THE SIXTY-EIGHTH STATE CONVENTION OF
THE OHIO JUNIOR CLASSICAL LEAGUE


March 9-11, 2018 at the DoubleTree Columbus Worthington
Audentes Fortuna iuvat. Fortune favors the bold. (Vergil, Aeneid 10.284)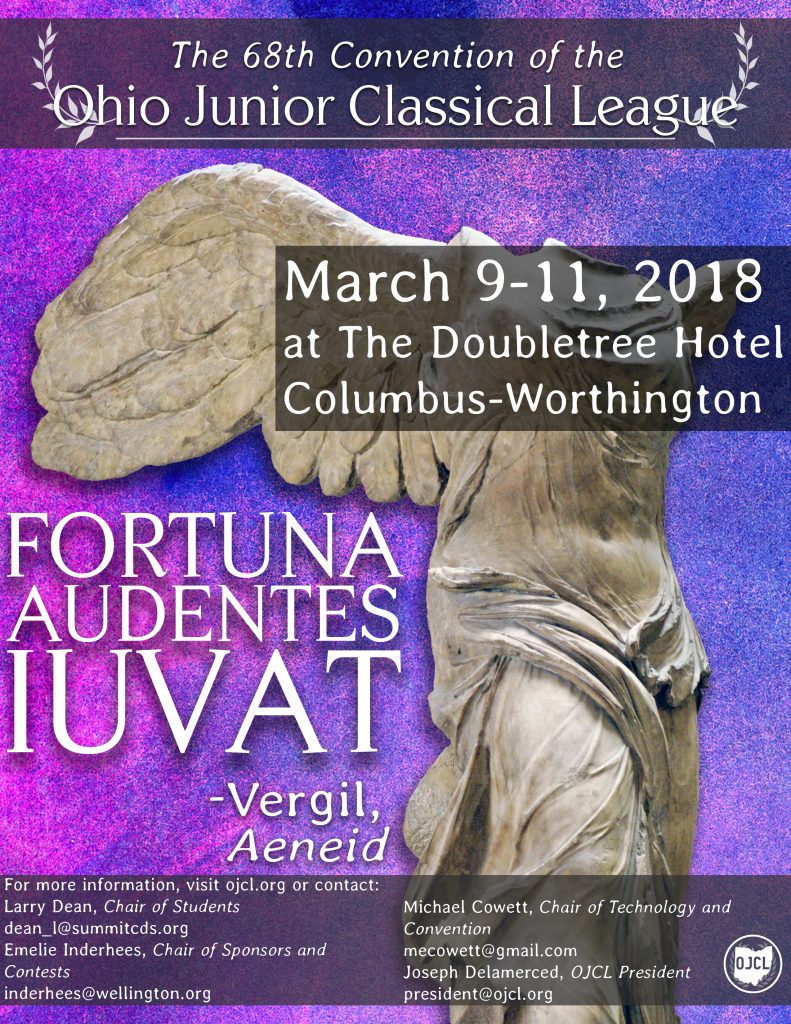 [ Download a flier for State Convention here. ]
Important Dates and Deadlines:
January 27, 2018: Photo of the Season submission deadline
February 1, 2018: Deadline for NJCL membership without late fee
February 3, 2018: Pre-Convention project submission deadline AND Convention registration deadline
February 7, 2018: Postmark deadline for paying 50% of Convention cost
February 17, 2018: Speech Contest deadline
February 18, 2018: Candidate Prefile deadline
March 2, 2018: Creative Contest registration deadline
March 5, 2018: Graphic Arts project pre-registration deadline
March 8, 2018: Roll Call Pre-Approval deadline
March 9, 2018: Beginning of 2018 OJCL Convention; 100% of Convention cost due
1 page schedule of events at the OJCL Convention – some locations have been changed from the program, and THE ROOM CHANGES ARE HIGHLIGHTED ON THIS SCHEDULE
BREAK OUT ROOM SIGN UP  If you would like to sign up for the break out room sessions (think Locked in a Room with a Zombie, but Classically themed… and no zombies), please sign up in the links below! There are two sessions, both late on Saturday night. A student may only do one. There is a limit to 32 students per session; the form will let you know if 32 have already signed up for a session.
State Convention:  2018 OJCL Media Release and Conduct Form – required! Turn the form into your Latin teacher.
ROLL CALL SUBMISSIONS are due MARCH 8TH to treasurer@ojcl.org. Check out the 2018 Roll Call Guidelines here!
Pre-Registration for Graphic Arts Contests is due March 5 at 11:59 PM! Pre-register your projects now: http://ojcl.org/students/graphic.php
Do you have merchandise that you want to sell? Do you need to raise extra funds for your club? Do you have another fun, awesome item you want people to see? Participate in the OJCL Bazaar! Sign up here!
Want to win fabulous prizes and earn the praise & admiration of your peers? Participate in the annual talent show: OJCL's Got Talent! Sign up here. Auditions are on Friday night, and the show is on Saturday night. Yes, there are prizes!
See the 2018 Spirit Themes for State Convention: Audentes Fortuna Iuvat (Club T-shirts), Romans at the Races, and Cinema Romana! View the 2018 OJCL Spirit Rules here.
The OJCL Speech Contest deadline has been extended to Saturday, February 17. Additionally, those delegates introducing candidates for office are now ALLOWED to join the contest. View the rules here, bearing in mind these changes. Contact 1st Vice President Caroline Klette (vpres1@ojcl.org) with any questions.
Congratulations to Katlyn Havlin of McAuley High School for winning our Photo of the Season contest for Winter! View the full list of winners for Winter here, and be sure to submit your Spring submissions by May 16th.
The Pre-file form for candidates running for the 2018-2019 OJCL Executive Board is now live. Click here to complete the form. (The link is no longer available.) Please consult the Constitution and By-Laws – there are changes to duties of certain offices. The deadline is February 18. Contact Parliamentarian Julia Dean (parliamentarian@ojcl.org) if you have any further questions or concerns.
Editor Taylor McGowan releases the the Winter 2018 Edition of the OJCL Torch! View it here on Joomag.
Congratulations to the following students for earning the Ohio Senior Classical League Scholarships for Convention!
Full Scholarship: Katlyn Havlin (McAuley)
Half Scholarships: Nyomi Morris (Beaumont) & Maliah Bricking (Summit)
---