Saturday, Feb 24, 9:00-11:30 am – Last Cincinnati certamen before the State Championship at the OJCL Convention at Mt. Notre Dame! See flier here.
State Convention:  2018 OJCL Media Release and Conduct Form – required!  Turn the form into your Latin teacher.
The OJCL Speech Contest deadline has been extended to Saturday, February 17. Additionally, those delegates introducing candidates for office are now ALLOWED to join the contest. View the rules here, bearing in mind these changes. Contact 1st Vice President Caroline Klette (vpres1@ojcl.org) with any questions.
To view more information about the 68th State Convention of the OJCL, including a printable PDF flier, visit our State Convention page.
Historian Ellie Kammerer releases her Historian Guide! This information is useful for historians on both the local and state level. Check it out here!
The Pre-file form for candidates running for the 2018-2019 OJCL Executive Board is now live. Click here to complete the form. (The link has been fixed.) Please consult the Constitution and By-Laws – there are changes to duties of certain offices. The deadline is February 18. Contact Parliamentarian Julia Dean (parliamentarian@ojcl.org) if you have any further questions or concerns.
Want to win fabulous prizes and earn the praise & admiration of your peers? Participate in the annual talent show: OJCL's Got Talent! – auditions are on Friday night, and the actual performance is on Saturday night. Yes, there are prizes!
View the 2018 OJCL Spirit Rules and 2018 Roll Call Rules here! Please remember that your Roll Call will need to be pre-approved before you present it at State Convention.
Congratulations to Katlyn Havlin of McAuley High School for winning our Photo of the Season contest for Winter! View the full list of winners for Winter here.
Congratulations to the following students for earning the Ohio Senior Classical League Scholarships for Convention!
Full Scholarship: Katlyn Havlin (McAuley)
Half Scholarships: Nyomi Morris (Beaumont) & Maliah Bricking (Summit)
Treasurer Grant Bruner releases the 2018 Spirit Themes for State Convention – see them now!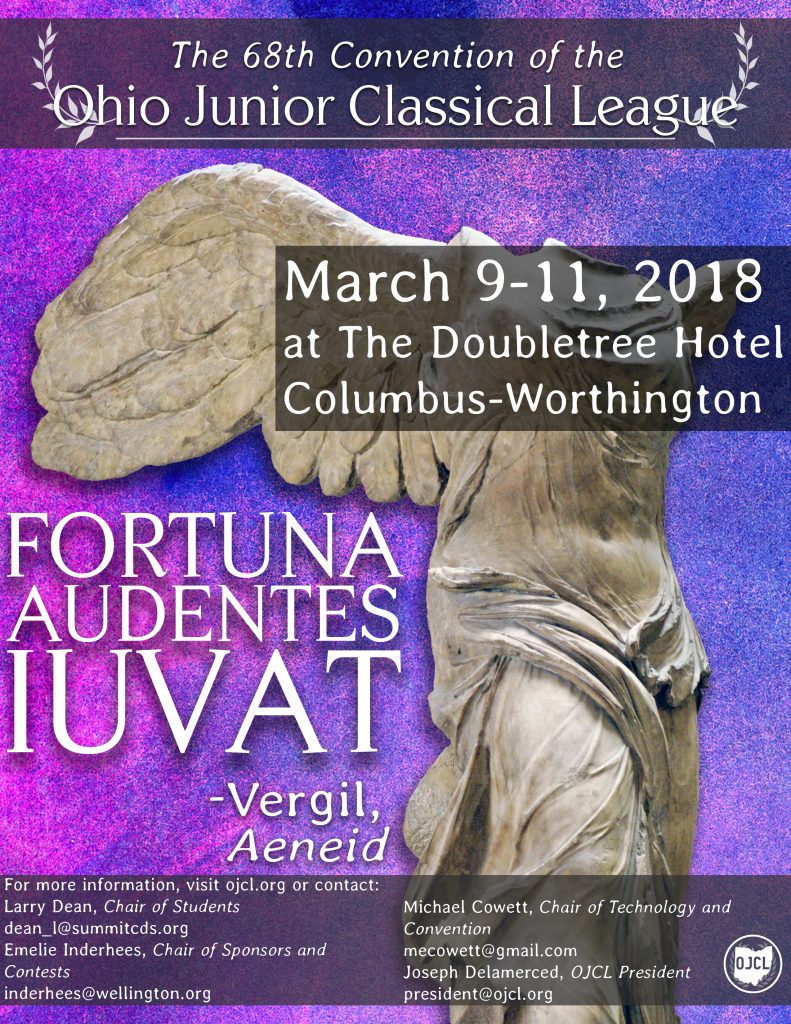 ---
Students
If you are new to the Junior Classical League, learn more here.
News, Announcements, and Important Deadlines (Quid Novi?)
OJCL State Convention
NJCL Convention
Pre-Convention Projects
Club Contests
Graphic Arts
Creative Arts
Academics
Certamen
Constitution, By-Laws, Officers
Scholarships
Ohio Senior Classical League
Sponsors
If you interested in joining the Junior Classical League, learn more here.
Sponsor Login
News, Announcements, and Important Deadlines (Quid Novi?)
OJCL State Convention
NJCL Convention
Latin Leveling and Competition Rules
JCL Chapter Registration Information (from NJCL)
National Latin Honor Society Information
Learn how your students can earn scholarships through the JCL for up to the amount of $2500.
---
2018 State Convention Theme:

Audentes Fortuna iuvat. 

(Vergil, Aeneid 10.284)