Want to win fabulous prizes and earn the praise & admiration of your peers? Participate in the annual talent show: 'OJCL's Got Talent!' – auditions are on Friday night, and the actual performance is on Saturday night. Yes, there are prizes!
To view more information about the 68th State Convention of the OJCL, including a printable PDF flier, visit our State Convention page.
The Pre-file form for candidates running for the 2018-2019 OJCL Executive Board is now live. Click here to complete the form. Please consult the Constitution and By-Laws – there are changes to duties of certain offices. The deadline is February 18. Contact Parliamentarian Julia Dean (parliamentarian@ojcl.org) if you have any further questions or concerns.
Photo of the Season submissions are due by January 27. Send submissions to Historian Ellie Kammerer (historian@ojcl.org), and refer to the Photo of the Season page for more information.
Saturday, January 27, 9:00 – 12:00: Seven Hills Certamen – see flier for more details.
Have you ever wanted to deliver the Opening Remarks at GA? Now you can! Join the OJCL Speech Contest! Click here to learn how to participate. Deadline is Sunday, February 11. The winner will be notified by Friday, February 16. Contact 1st Vice President Caroline Klette (vpres1@ojcl.org) with any additional questions.
The Classics Department of the University of Cincinnati is accepting applications for the Semple Scholarship.  The deadline is January 25, 2018.  Click here for the application. If you are interested in additional classical scholarships, please refer to our Classical Studies Scholarships page.
Congratulations to the following students for earning the Ohio Senior Classical League Scholarships for Convention!
Full Scholarship: Katlyn Havlin (McAuley)
Half Scholarships: Nyomi Morris (Beaumont) & Maliah Bricking (Summit)
Intro to Latin and Latin I-III students have the opportunity to take the Classical Literacy Exam and the new Classical Scholar's Exam, which focuses exclusively on Homer's Odyssey. Read more here.
Treasurer Grant Bruner releases the 2018 Spirit Themes for State Convention – see them now!
---
Students
If you are new to the Junior Classical League, learn more here.
News, Announcements, and Important Deadlines (Quid Novi?)
OJCL State Convention
NJCL Convention
Pre-Convention Projects
Club Contests
Graphic Arts
Creative Arts
Academics
Certamen
Constitution, By-Laws, Officers
Scholarships
Ohio Senior Classical League
Sponsors
If you interested in joining the Junior Classical League, learn more here.
Sponsor Login
News, Announcements, and Important Deadlines (Quid Novi?)
OJCL State Convention
NJCL Convention
Latin Leveling and Competition Rules
JCL Chapter Registration Information (from NJCL)
National Latin Honor Society Information
Learn how your students can earn scholarships through the JCL for up to the amount of $2500.
---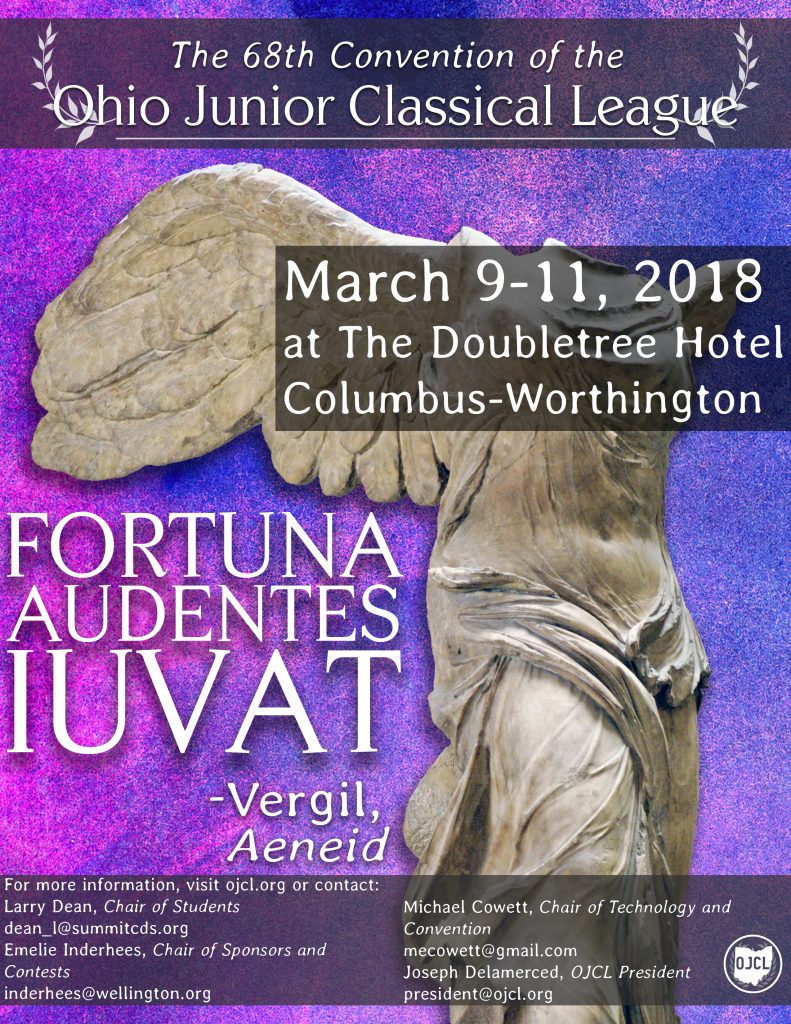 2018 State Convention Theme:

Audentes Fortuna iuvat. 

(Vergil, Aeneid 10.284)