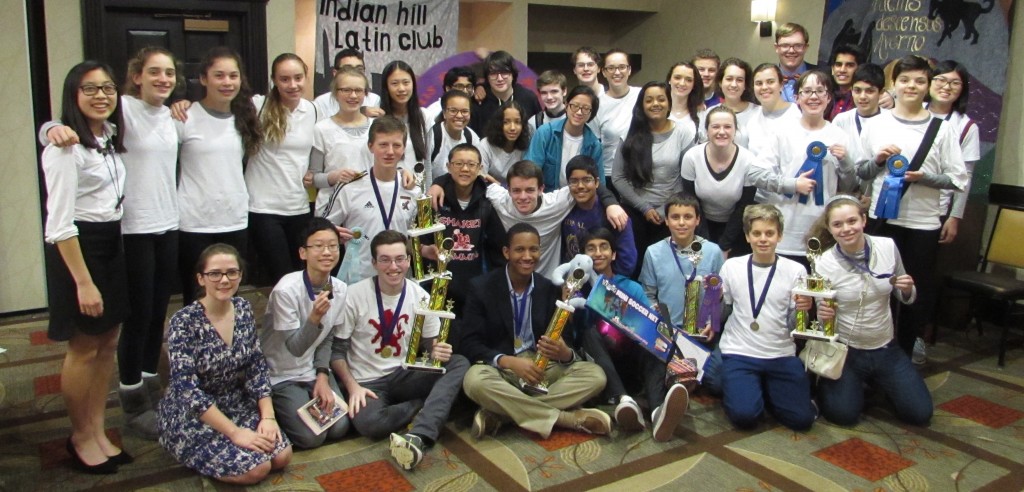 Fri Feb 19 – Sun Feb 21 2016
OJCL Convention at Doubletree Hotel in Worthington OH
Official program, with complete schedule, edited by Summit Senior Dustin Argo, the OJCL Secretary.
Do you have something important to say about Latin and the JCL?  Want to give a speech to all the delegates at convention during one of the General Assemblies? Click here for details about the 'Convention Speech Contest' (deadline is Feb 5).  (1-25-16)
Want to win fabulous prizes and earn the admiration of your peers?  Participate in the annual talent show 'OJCL's Got Talent!' – auditions on Fri night, the actual performance on Sat night. (1-9-16)
Treasurer Kelly Thaxton (Westlake) has released the 2016 Spirit Themes and Rules for Spirit and Roll Call and Information about the Bazaar (where clubs can sell stuff at convention).  (12-2-15)
The pre-file form for OJCL elected offices is now live (12-4-15):
2016 Theme:  facilis descensus Averno, 'The descent to Hell is easy' (Vergil Aeneid 6.126).   The Sibyl of Cumae speaks these words to Aeneas, who has requested to visit his father Anchises in the Underworld.
Congratulations to the Shaker Heights Latin Club for the winning entries in both the Roman Rap and Promotional Video Contests!  The prize?   2 $100 Pizza Parties! (11-23-15)
Here is information about the various competitions at convention:
Sponsors Log-in (for Convention Registration) – For any questions or problems with access to this Log-in, please contact the appropriate State Chair (Bryan Inderhees, OJCL Technology and Convention Chair).
************************************************************************************
Congratulations to Shaker Heights at the 2015 Convention:  1st in Overall Pts, 1st in Per Capita Pts, 1st in Academic Per Capita Pts!
2015 OJCL CONVENTION UPDATE
2015 OJCL Convention theme is Malum quidem nullum esse sine aliquo bono, "There is no evil without some good."  (Pliny the Elder, Naturalis Historia, 27.2.9)
Treasurer Lindsey Dierig has released the spirit themes for the 2015 OJCL Convention.  And here are the  Rules for Spirit and Roll Call. (12-1-15)
Want to submit a suggestion for the Latin theme for the 2016 OJCL Convention?  http://ojcl.org/students/theme.html
The pre-file form for OJCL elected offices is now live:  http://ojcl.org/students/prefile.php.  Applications must submitted by 11:59 pm on Sunday February 1 2015.  (Parliamentarian Tullus Dean 1-21-15)
***********************************************************************************
Convention Theme for 2014:  omnia mutantur, nihil interit, 'everything changes, nothing persishes.'  The quote is from Book 15 of Ovid's 'Metamorphoses' during the lengthy speech of Pythagoras.  He asserts that the soul does not perish but rather enters a new body.
***********************************************************************************
2013 OJCL Convention Overall Results:
2012 OJCL Convention Overall Results: